How to buy an artwork machine,cnc wood router vs co2 laser engraver?
Views: 73 Author: Site Editor Publish Time: 2017-08-09 Origin: Site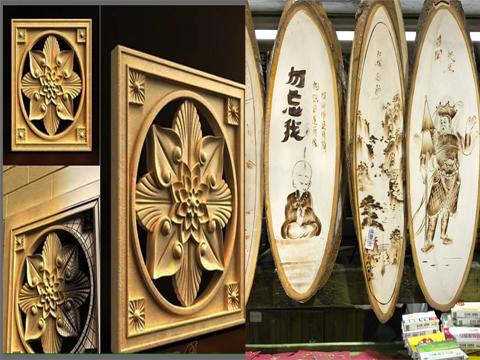 How to buy an artwork machine,cnc wood router vs co2 laser engraver?
Do you know both cnc wood router and co2 laser engraver? If used in artwork industry,which one cnc machine is your best choice? Cnc woodworking router machine and laser engraving machine,both of them have its own advantages in artwork.Choose wood cnc router or co2 laser engraving equipment is depends on the processing materials.
Wood,bamboo,acrylic,plywood,double-color plate and so on are widely used to create all kinds of beautiful and exquisite arts and crafts.Many artwork manufacturers are very confused at which kind of cnc wood router machine or co2 laser engraver they should to buy.But they always have one thing in common that they want to do all the jobs by only one cnc woodworking router machine. Today I would like to talk about the respective advantages of the cnc engraving co2 laser machine and industrial cnc router machine at artwork production.
First,the laser engraving machine is of high precision,usually used to carve flat materials.If you need to carve a fine pattern or small prints on the arts and crafts,it is very wise for you to choose laser engraver machine for sale.For instance,car wood pendant and some Buddha beads are made by laser engraving machinery.Take acrylic as an example,if you want to engrave acrylic artwork,it is suggested to use cnc co2 laser machine.Aoout the specific notes for engraving acrylic,please search it in cnc laser solution column or cnc application parts.
Second,as to cnc router for wood engraving,you can control the cutting depth of the router tools,is especially used to carve relief products.Generally some products with three-dimensional feeling is engraved by wood cnc router with table.
In a word,choosing the different machine(cnc woodworking router machine or co2 laser engraver machine) to produce different products, the efficiency will increase a lot.Please do not believe that one machine can meet all of your multiple needs.If you want to know more about cnc router for wood engraving,acrylic cutting cnc router,cnc router for plywoodcutting,or wood laser engraver,co2 laser engraver for bamboo,acrylic laser cutter engraver and so on,please contact us immediately.