How to choose wood engraving cutting cnc router's lathe bed?
Views: 15 Author: Site Editor Publish Time: 2017-07-04 Origin: Site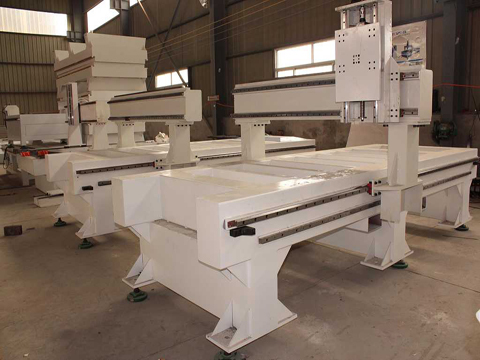 How to choose wood engraving cutting cnc router's lathe bed?
Wood engraving cutting cnc router's lathe bed usually falls into three types,welded bed and iron-casted bed or granite bed,the previous two types are common ones.
Generally speaking,the welding bed ofwood cnc router is relatively simple and can be made in accordance with the design demands,the price is not expensive,but the process of residual welding stresses is more complicated.If without experiencing this process,the lathe bed will become easier to deform and the machining accuracy will be greatly reduced.
Iron cast bed is made by only one casting process,it is not easy to deform.But because of the complexity of casting process and the special nature of foundry industry,its price is too high. If produced under certain technological requirements,the welded bed is better than that of the iron cast bed.We Dekcel cnc machine adopts 8mm steel welding bed.After hundreds of special vibrate experience,we ensure that the lathe will not deform during long hours working.With enhanced welding technology,we provide our machine with good stability,long service lifetime and amazing accuracy rate.Compared with other manufacturers'4.8mm body thickness,we believe that our products will totally meet your rigorous requirements.
Your satisfaction is our ambition.Looking forward to cooperate with your esteemed company.