What are the differences between cnc router machine and laser engraving machine?
Views: 23 Author: Site Editor Publish Time: 2017-09-27 Origin: Site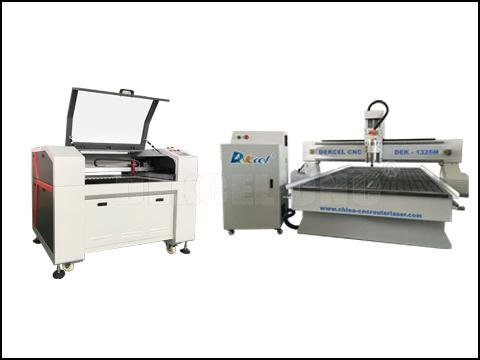 What are the differences between cnc router machine and laser engraving machine?
The cnc laser engraving cutting machine and cnc router machine can process many same materials, such as acrylic, wood, mdf, pvc, double color board, marble stone, tombstone and other materials. But do you know, what are the difference between cnc router engraving machine and cnc laser engraving machine?
The most important difference between cnc router machine and laser engraving machine is the engraving way. High precision cnc laser engraving machine uses laser light as a carving energy to engrave. And common cnc woodworking engraving router machine is the use of cutting tools for carving, and the type of knives, specifications requirements are high.
About the good quality cnc router and good quality laser carving machine, the differences are:
1. In the fine carving, the precision of cnc laser engraving is higher than cnc router machine. because the laser source of the high precision laser carving is very small. But the tools of cnc router machine itself has a certain wide.
2. In the engraving materials, famous brand reci laser tube laser engraving machine, it is difficult to do a deep engraving in metal materials, and the cnc laser metal engraving machine can only carve on the surface of metal materials. While cnc wood carving router machine can do a certain depth engraving, and even cutting.
3. The cnc laser engraving cutting machine is non-contact processing objects. For plane engraving, there is no need to fix the workpiece. Using the high speed cnc router, because it is contact engraving, so the workpiece is required to be fixed.
4. The laser tube of laser carving machine has a using time life, and there is no time limit for engraving tools, but also will appear tool wear, in severe wear, it is necessary to replace the tools.
5. Laser engraving cnc machine in the ability to carve photos is very good, the JPG format photos can be carved by the laser machine directly. The cnc engraving router machine can not do this.
Of course, the difference between the laser engraving and cnc router machine is not just those. There are many uses, different functions, which only lists several samples here. If you are interested in our cnc router, cnc laser or other cnc machines, please contact Jinan Dekcel Cnc Equipment Company. We are support service 24 hours online.
Thanks for your reading.