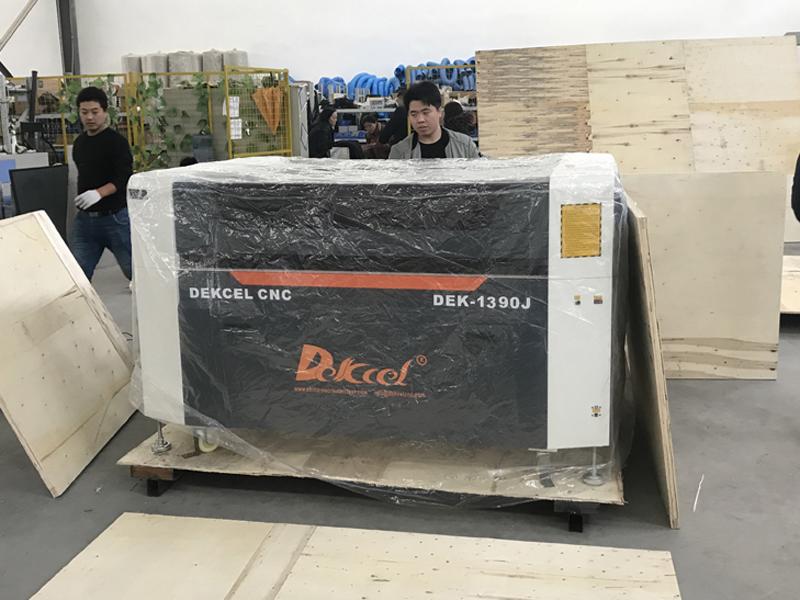 According to different classifications, there are many different models of the laser engraving machine, and the prices are different. If you're a beginner or a self-employed person, you tend to struggle with the price tag. How much is the laser engraving machine? How do you choose them? I hope you will get the answer after reading this article.
Here is the content list:
What Affects Price Of DEK-1390J Laser Engraving?

How Much Does A Laser Engraving Machine Cost?

What Should You Take Note Of About Price?
What Affects Price Of Laser Engraving?

China laser engraving machine manufacturers will generally according to market demand, design different sizes, different models, different powers of laser engraving machine, but also according to customer requirements customized non-standard size of the body, configuration. But a custom model is more expensive than a standard model. Different configuration price is different naturally, the discretion that the price basis configures will qualitative.
Good laser accessories can give laser engraving machine a good advantage. For the intake light source, good laser quality does not need the strict position matching of crystal technology, it can evenly and automatically absorb the photoelectricity. The application of laser also reduces the overall power consumption, so lower heat and loss and low energy heat will not damage anything; The output energy can be divided into more energy, and increase the coordination line, the coordination and concentration of multi-beam work; It is also more environmentally friendly, with a tolerance for dust and temperature that is adaptable to a variety of environments.
Ø Laser tube
Laser tube is the heart of laser engraving machine. It is carbon dioxide laser tube likewise, because brand, model, technical parameter, performance is different, the quality of the product also is uneven. The product quality of laser tube mainly depends on laser power, spot quality, stability and service life. Laser tube is consumable, has a certain service life, need to be replaced in time after expiration.
Ø Other key components
Other key components of the laser engraving machine include guide rails, motors, control panels, power supplies, belts, rollers, and metal casings. The brand and quality of these parts will lead to different prices for laser engraving machines.
Laser equipment according to the use of different ways, so the choice should be in accordance with the main demand of the product to choose the laser engraving machine.
What's more, because the domestic and foreign markets are different, in the production process of laser engraving machine, their production process, technical level is different, this also leads to the price gap between different manufacturers of laser engraving machine, generally speaking, the price of imported equipment will be higher.
How Much Does A Laser Engraving Machine Cost?
If you want to type on a can, key chain, or metal pendant, a small laser engraving machine can help. It is cheap, less than 20,000 can solve the problem of equipment and raw materials, and the equipment is small, you can use a small laser engraving machine to produce products at home or rent a small studio.
It can be processed directly on our desk, and the price is usually around 20,000 yuan. The equipment with special requirements is more expensive, and the overall price will not deviate too much.
l Large laser engraving machine
Large laser engraving machine power is usually larger, the machine size is larger, why is this? As the power of the machine increases, smaller machines are less stable in processing, and larger ones are better.
The difference between a large laser engraving machine and a small laser engraving machine is usually in the power and format, the power of the laser equipment is more suitable for engraving, rather than surface carving, the price of more than 20,000.
Fiber optic equipment is relatively expensive in laser engraving machine, from hundreds of thousands to tens of millions of all have, optical fiber laser engraving machine is designed for metal materials processing, almost all the metal cabinets on the market can be processed with fiber laser engraving machine.
What Should You Take Note Of ?
Machine equipment after-sales service is very important, but people often fall into a wrong view, everybody always think domestic machine, for which is from the domestic production, so the parts are made quite quickly and easy to be replaced, but good quality laser engraving machine is not easy to damage, so often there will be little need of maintenance. So, you have to be careful of those too cheap laser engraving machine, follow-up parts repair costs may be beyond your imagination.
No matter how well a laser engraving machine is, users will encounter a variety of problems in the use of the process, in the face of the problem cannot be solved, the enterprise can provide a timely solution is particularly important, which is also an important factor for users to consider when choosing a laser engraving machine.
If you choose our DEKCEL CNC laser engraving machine, you will not need to worry about the quality problem, because our equipment is imported from Germany, fine workmanship, our staff will also provide you with perfect after-sales service. Provision of a CNC machine is more than just the provision of a machine tool. Choosing our products will never let you down.