Mach 3 control system of cnc wood router for sale
Views: 6 Author: Site Editor Publish Time: 2017-08-11 Origin: Site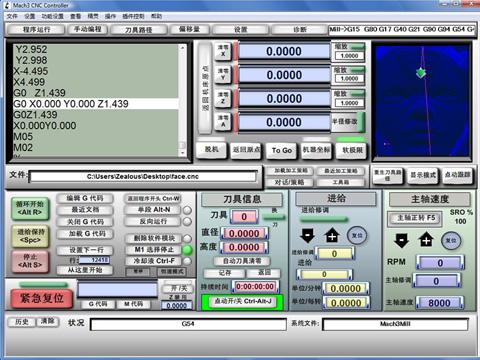 Mach 3 control system of cnc wood router for sale
If you are a potential cnc wood router clients or already a cnc woodworking routers user,you maybe have heard of Mach3 control system,which is very popular for cnc machine industry especially in Europe or America etc.How much do you know Mach3 control system? What role the Mach3 control system plays in cnc router for wood engraving process.
Definition and functions of Mach 3 control system
Mach3 control system is developed by Artsoft company in America based on computer numerical control platform,which version must be WIN XP or WIN2000 and uses PC computer's LPT,or USB port as CNC equipment input and output port,so as to control the stepper motor or servo motor driver to help wood engraving cnc routermove and work in good condition.By the way,this software supports all international standard G code.Mach3 control system can control no more than 6 heads,That is to say Mach3 control system can help wood carving cnc router realize automatic tool change function,any complex graphics and patterns can be engrave on wood with good precision and at high speed.
Mach3 cnc control software is an open system,simple operation, easy maintenance,stable performance,low cost,all these good characteristics make sure the cnc wood cutting engraving machine can continuously do a great job for long hours.This Mach3 control system can support a variety of file format,such as DXF,BMP,JPG, HPGL and so on.By using Mach3 controller you can easily realize full screen display, digital three-dimensional dynamic display tracking,automatic tool changing,repositioning function after power off or cnc router failure.
Mach3 controller price
Industrial cnc wood router machine control system is divided into three types: DSP controller,NC studio control system and Mach3 control system. DSP and NC studio are very familiar to China cnc wood router suppliers and very popular especially in China.NC studio is equipped with a computer,so that it can see the whole processing real-time.DSP don't need to connect with a computer,a USB offline is preferred,you can move with DSP anywhere near the cnc router with a rotary. At the aspect of price,Mach3 is the cheapest,then DSP,and the NC studio.
Okay this is what i share for today. If you have different opinions of cnc router wood engraving machine or best wood cnc router control system,please contact with me.Of course if you want to know more about cnc woodworking routers instructions,you can find what you need on our website.Thanks for your time.