The features of cnc co2 laser engraver for jeans patterns carving
Views: 10 Author: Site Editor Publish Time: 2017-09-13 Origin: Site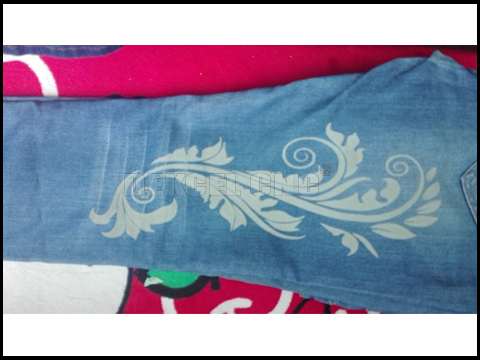 The features of cnc co2 laser engraver for jeans patterns carving
Jinan DEKCEL cnc company offers serious 80w 100w cnc co2 laser cutter and engraver for fabric. Especially for beautiful patterns on jeans, now they are usually the great works of cnc 80w co2 laser engraving machine.In the following part, dekcel will share the advantages and features of the DELCEL cnc co2 laser engraver for jeans.
Cnc co2 laser engraving machine for jeans is a special equipment to carve various patterns for cowboy jeans. With the rapid development of cnc laser technology, the water washed denim process with serious pollution, pungent smell has become "past style", followed by advanced environmental protection denim cloth 1390 or 1325 80w cnc co2 laser engraving machine for fabric. Stylish, generous, trendy and diverse, the jeans have become different by the carving process of dekcel cnc co2 laser engraver.
In summer, people especially young women will love to wear leather, denim cloth or chiffon skirts. It all comes with cnc co2 laser engraving machines for fabric. No matter it is the ordinary beard pattern, or the complex carving pattern, the DEKCEL 80w 100w cnc co2 laser engraver for jeans can give the denim new life eventually.
Hope this article will help you. If you have any questions about cnc co2 laser engraver price and qualities, please contact us as soon as possible. Jinan Dekcel Cnc Euipment Co., Ltd will always be there for you.