The difference between Multi-spindle woodworking engraving machine with ATC cnc router
Views: 19 Author: Site Editor Publish Time: 2017-04-17 Origin: Site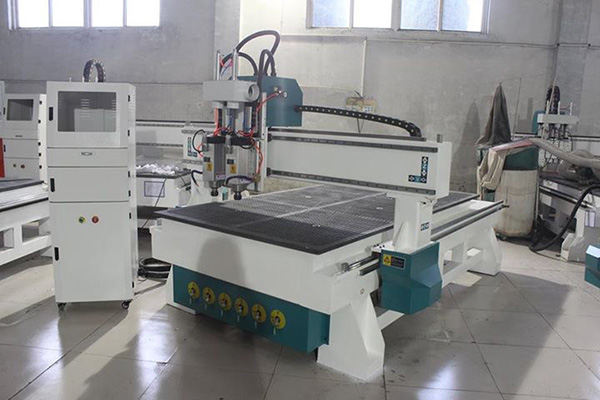 1.Object-oriented
Multi-process woodworking engraving machine aimed at the mid-range customers,is suitable for solid wood doors,cabinet doors,sliding doors,paint doors,soft package doors and so on.In general case,2-3 knives can finish the simple carving.Woodworking Center for high-end customers all,needs a lot of knives in order to produce the works with complex color, different models and high precision.
2.Tool change principle is different
Multi-process woodworking engraving machine has a number of head.For example,three-processing woodworking engraving machine has three heads of different types of tools.When the machine needs to change tools,the current head will be lifted up,the wanted head would be put down to continue engraving.However,There is only one head as for woodworking center and it has a magazine tool.Besides, different types of woodworking engraving machine have different magazine tool capacity with eight or twelve even more knives.It can be divided into linear ATC,circular disc ATC and so on according to the shape of the magazine and the form of tool change.
3.Engraving speed and accuracy are different
On account of high prices and high configuration,woodworking processing center is better than the multi-process woodworking engraving machine as to the processing speed and engraving accuracy.
4.The control system is different
Multi-process woodworking engraving machine is generally equipped with Shanghai Weihong control system, woodworking processing center is generally equipped with Syntec control system.