Solutions! possible problems you may encounter and after-sales service of cnc engraving router wood machine
Views: 12 Author: Site Editor Publish Time: 2017-07-15 Origin: Site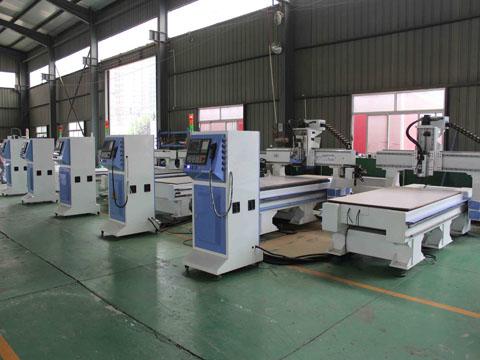 1.The working environment of wood engraving cnc router
Wood cnc engraver is one kind of high-tech mechanical and electrical integration equipment,have certain requirements to the working environment;
1).Wood cnc carving machineshould avoid strong power,strong magnetic and other serious impact from signal transmission equipment,such as welding machine,signaltower and so on.
2).Cnc wood router machine equipped with a three-core power supply to ensure that cnc woodworking router machine is well grounded and greatly reduce interference.
3).Connected with steady voltage,large ups and downs bad effects on the industrail cnc wood router machine will be avoided.If you are a cautious cnc carving router wood machine buyer,it is best to use a regulator.
4).Do not exposed table cnc wood router to the environment of strong acid and alkali.
2.Maintenance and protection of cnc wood router machine for sale

Generally,China cnc wood router is engaged in processing industry,a lot of powder and dust will be generated.Please pay attention to clean the cnc wood router table,the screw,guide rails and other components,and make regular lubrication to the guide rails,gear and rack transmission and so on.One suggestion is that you can read wood cnc router table instructions carefully,and do the things according to wood cnc router table manual,I am sure the service lifetime of cnc wood engraving machine will be greatly prolonged.
3.Software usage notes
As to cnc wood router for sale,a lot of engraving software is available,such as Wentai carving, Casmate-pro,Caxa,Mastercam,Artcam,Smartcam,Type3,etc.,In order to achieve your carving requirements, please use the correct operating software to the wood carving with a cnc router,for different engraving softwares have different advantages.I will talk about this topic in another article.
4.After-sale service of cnc router carving woood machine
1).How long is the delivery time?
For standard wood carving cnc machines,it would be 7-10 days;For non-standard cnc router for wood engraving and customized cnc wood engraving machines according to client s specific requirements,it would be 15 to 30 days.
2).If some problems happened to this cnc router for wood carving during warranty period,what should I do?
We will supply free parts in cnc woodworking machine warranty period if machine have some problem.While we also supply free after-service forever,so any doubts,just let us know,we will give you solutions in 24 hours.
3).The wood carving with a cnc router guarantee is 12 months;24 hours technical support by phone,email or MSN,skype etc.
4).Lifelong maintenance for wood cnc router table ,and lifelong technical support from sophisticated English-speaking engineer team.