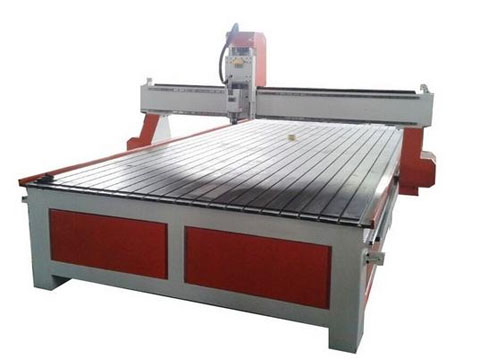 With the emergence of a variety of decorative materials,how to produce these materials with high speed and good precision is becoming a big concern. Cnc router carving machine is available to process more and more materials,and its application scope of cnc(computer numerical control) router machine will continue to expand.

CNC router machine,also called cnc engraving machine,it is a kind of automatic and mechanized production mode. From the processing principle,it can be regarded as a kind of drilling and milling combined processing,design any pattern,font through the CAM software,set up three-dimensional tool path by computer.
Classification of cnc carving machine:
Industrial cnc engraving machine,includes cnc woodworking engraving machine,cnc stone carving machine,advertising small cheap cnc router machine, laser engraving machine,plasma cnc machine, laser cutting machine,but basically share similar characteristics.Take advertising small cnc router as example,it can be divided into low-power engraving machine and high-power carving machine.Low-power engraving machine refers to cnc router machine with lower motor power (generally 80-200W), because of its small motor power,this one can only be applied to the cutting materials surface.Such as: badges,sand model,handicraft surface processing.High-power cnc router wood carving is more than 700W. This type of wood engraving cnc router can not only carry out low-power carving,but also can carry out high-power processing.For example: crystal words,all kinds of advertising signs, artificial stone carving. Because of cnc wood carving machine's big power,you can cut 30mm thick organic glass or acrylic with a router tool at one time.
Industrial cnc wood router machine is actually a three-dimensional numerical control system,its working principle as following picture shows:
Working principle of cnc router for wood carving
Normally need to install a dedicated design and layout software for graphics,text design,it will automatically generate processing path,insert the tool path data into the micro controller of cnc
woodworking router machine through the USB interface or other data transmission interface,input the path information into cnc information with a specific algorithm,convert this information into the cnc router wood engraving machine's stepper motor or servo motor signal (pulse train) by the controller?
CNC router engraving machine application characteristics:

1,the use of high-precision and high-speed spindle motor
The wood cutting cnc router machine's spindle motor is of "high speed,high precision,low noise,low vibration,and ensure that small tools can get a higher cutting line speed, maintain a high degree of rotation accuracy,resulting in sufficient high-speed cutting force, less vibration.
2."Engraving" is an art action
Cnc carving wood router machine is equipped with all kinds of router tool,can perfectly meet the designer creative needs.
3,Art surface modeling methods and geometric surface modeling methods combined
With the continuous expansion of CNC engraving machine applications,"engraving" is no longer just "finishing touch",and has gradually penetrated into the field of product design and processing, so that wood engraving cnc router tools must have a certain surface modeling function.As the cnc router for wood carving is a unique design method,the need for multi-product form can not be expressed with accurate digital function,depending on the designer's creation,only with the combination of art surface and geometric surface modeling,can wood engraving cnc router machine have a more brilliant performance in the industrial field.
4,Small cnc router tool with high-speed carving technology and crafts
"Fineness" is the essence of carving,the conventional cnc wood engraving router tools are "powerless" in 90% industrial carving work,small router tool of cnc woodworking machine is badly needed.Mechanical engraving workers with rich experience can avoid router tools get broken,so as to ensure the efficiency of cnc carving wood machine!With the computer control and with high cnc engraving processing technology support,includes popular "high-speed cutting technology" and unique "Equal cutting technology",cnc router for wood engraving is done.
Wood cutting cnc router machine's professional engraving software features
1,You can input the image documents into cnc router wood machine,such as pcx,bmp,jpg,tip,etc., then perform vector processing.
2,Cnc carving wood router machine contains 170 kinds of fonts,any shape of graphics can be painted, designed and arranged.
3,2D contours can be made into 3D surface,the surface can be overlapped,the 3D graphics can be attached on wood,realize the real art statue shaping.
4,Reverse engineering function,after receiving the information,it will generate the corresponding surface,you can make CAM mechanic tool path,and start processing.If industrial cnc woodworking machine is equipped with a laser scanning system,you can complete the entire process of carving immediately, high speed,high precision.
5,Wood cutting and engraving machine for three-dimensional relief, can make figures,animal and plant 3D modeling.The photo stereoscopic carving can be realized after image documents through the grayscale analysis.
6,Single head cnc engraving wood router machine can be upgraded to four-axis wood cnc router,five-axis cnc wood router.
7,Cnc wood cutting and carving machine can do super hardness cutting,ultra-fine word processing.
8,Cnc wood cutting router is compatible with a variety of professional or special processing software, can be read by ICES,DXF etc.
9,China cnc router machine is equipped with open post-processor.
laser cutting and engraving machine working principle
The laser has a very high luminous intensity, but also has the characteristics of directionality, coherence,monochromaticity,the laser is generated by the laser tube,passing throught reflect mirror and focus on the focus lens,and finally reflect on the processed object,so that object surface subjects to strong thermal energy and temperature,generating rapid melting or vaporization due to high temperature,with the laser head cooperation to achieve the processing purpose.
With the people's awareness,CNC engraving machine including cnc wood router machine and laser cutting and engraving machine,is widely used in all walks of life such as:
1.Cnc wood router for advertising and gift production,for carving various types of color plate signs,plexiglass,three-dimensional billboards,two-color figures statue,relief medals,organic plate relief, three-dimensional door word.
2.Cnc wood carving machine for model making,making sand table model,housing model and so on.
3.Metal milling cnc router for mold manufacturing,sculpture buttons embossed mold,printing bronzing die,injection mold,stamping die,shoe mold,and so on.
4.Cnc router woodworking machine for wood industry, for relief design and production.
5.Wood cnc engraving router machine is also suitable for the production of PCB circuit,drilling, milling and so on.
6.Specific mini cheap cnc wood router for seal industry,various types of various types of materials seal engraving.
7.Cnc wood router for sale also applied for EDM machine tool and electrode engraving processing.
8.Industrial cnc wood router for mechanical processing industry,dial and scale scale.
9.High speed cnc router wood machine for automotive industry,tire mold,lamp mold and ornament mold processing.