Price gap? How to choose gantry type of cnc woodworking router machine?
Views: 8 Author: Site Editor Publish Time: 2017-07-17 Origin: Site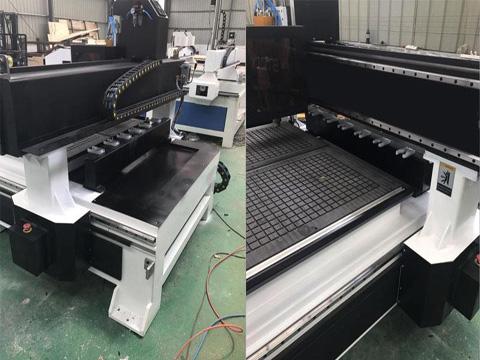 CNC woodworking engraving machinegantry structure is to ensure that wood engraving cnc router's processing speed and accuracy,the key for choosing cnc router gantry type lies in composed materials and workpiece accuracy. Gantry cnc wood engraving machine's x-axis is responsible for horizontal movement,Y axis is for longitudinal movement,Z axis is responsible for the up-down movement.While the slide-type wood carving cnc router uses the chassis to move and is only responsible for the X-movement.
At present,common cnc engraving wood machine's gantry falls into two types:iron casted gantry and aluminum casted gantry. Iron casted gantry has high price,because of its large weight,this kind of gantry is not popular among industrial cnc wood router machine manufacturers.Aluminum casted gantry with light weight,large strength is now the leading product for wood cnc router suppliers.
Why choose wood carving router machine's gantry with light material?
Very simple reason,we all know that the pressure and friction is proportional to each other,so the lighter the materials,the smaller the friction,the smaller damage to the stepper motor.In a word,if resistance is smaller,the movement speed will be fast.
Future development: steel gantry of industrial cnc wooworking machine
Take cnc woodworking router machine as an Example.Compared with aluminum,steel is several times better than the aluminum alloy at the aspect of bending resistance.Wood cutting cnc router machine's gantry is also developed into steel casted one from aluminum casted gantry.The steel structure has better strength,can provide a rigid and stable processing platform for cnc woodworking machine.If you want to engrave or cut aluminum and copper or stainless steel etc,all these kind of soft metal materials,it is suggested to buy wood cnc routerwith thick-walled square steel gantry.