Flatbed 1.1kw Router Spindle CNC Oscillating Knife Cutting Plotter Machine
Views: 832 Author: Site Editor Publish Time: 2020-09-03 Origin: Site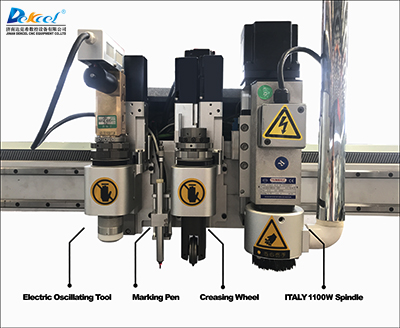 Flatbed 1.1kw Router Spindle CNC Oscillating Knife Cutting Plotter Machine
Today our DEK-1625M router knife cutter machine will be ready to be packaged and sent to our Russian customers. This CNC knife cutting machine equipped with electric oscillating tool, creasing wheel, v-cutter, 1.1kw Italy router spindle, which can both cut soft and hard material.
DEKCEL CNC router module oscillating knife cutting plotter machine equipped with Italy CAK 1.1kw spindle, have good performance for cutting, engraving and drilling on acrylic, wood, MDF board and other kinds of composite material, in order to meed different cutting request, the spindle power from 1.1kw to 3.2kw.

Dekcel CNC digital oscillating knife cutting plotter with Italy 1.1kw spindle, which both can cut soft and hard composite materials. Below are the materials that cut by this knife cutting plotter :
- Fabric,cloth,textile,garment,fiberglass,leather
- Cut contour in any shape for advertising printing board,acrylic,kt board,paper board
- Cut rubber gasket, paper gasket,PTFE, non-asbestos, tanged graphite gasket, cork gasket
- Cut floor mats
- Cut vinyl sticker
- Corrugated board, Plastic, honeycomb board
- Grey cardboard, ivory cardboard,paper
- KT board, PVC foam board, EVA board, Foam board, Magnetic material
- Vinyl Sticker, Reflecting material
- Carton box, cardboard box, color box
Our company many years experience for the oscillating knife cutting machine field, we can help you to choose the right cnc knife cutting machine with good configuration.
Please offer me your cutting request or testing file ( dwg,dxf,plt,ai ),we will make a gtesting video for you.
DEKCEL CNC Sincerely At your Service.
Thanks for your reading.