The Digital Development of CNC Oscillating knife cutting machine
Views: 170 Author: Site Editor Publish Time: 2017-02-14 Origin: Site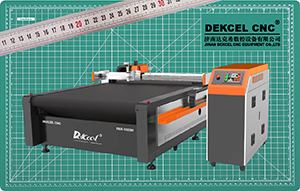 The development of CNC knife cutting machine must adapt to the development of modern mechanical processing industry. This article will take you to understand the development of product digitization
Digital CNC oscillating knife Cutting machines, in particular cutting machines for cutting plastic and foamed materials, are faced with ever increasing demands with respect to cutting quality, speed and robustness. The use of the latest CNC operating system, professional for the production of cutter die and design of cutting machine. It perfected the traditional cutting machine and reduced the workload of the workers.
A Oscillating knife cutting machine including an endless band knife, the band knife being guided in opposed directions in a revolution zone of the band knife forming a cutting zone, and including a first and a second deflecting device for deflecting and returning the band knife. The first and the second deflecting devices each deflect and return the band knife without a reverse bending cycle.
CNC Oscillating knife cutting machine the high energy of laser is used to ablate the cutter template in high depth。The development of science and technology has greatly promoted the development of society and life, and social life is more and more exquisite and quality, which makes enterprises pay more attention to improving work efficiency. The influence of environment, cost and technology factors on enterprises makes the technology and process configuration, means and methods change with each passing day, and new technologies and products emerge in an endless stream.
In order to make the CNC swinging knife cutting machine industry conform to the development of the trend of the information age, the technology updates quickly, by the majority of users praise.