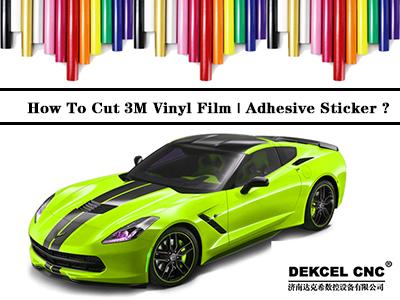 How To Cut 3M Vinyl Film | Adhesive Sticker ?
What is The Adhesive Vinyl Sticker ?
An adhesive sticker is also called self-adhesive label, which is designed to be affixed to any surface such as paper, plastic, wood, glass or metal, typically by the action of a layer of adhesive on the front or back of the label. The term adhesive refers to a sticky substance, while something that is self-adhesive implies that it will stick without wetting or the application of glue to the product. This article will show you how to use digital kiss cutting plotter machine to process the 3M vinyl film and adhesive sticker.
3 ways To Cut Vinyl Adhesive Sticker
1. Manual Cutting
Generally, as the small quantity of adhesive sticker film are manually cut with a knife blade and ruler.
2. Die Cutting
First make a knife mold according to the pattern of the 3M vinyl sticker, and then use a die-cutting machine to manually cut one by one.
However, the die cutting has a disadvantage, It will change the cutting mold according to different patterns or stickers, which will increase the processing cost.
3. Digital CNC Knife Cutting Plotter Machine
For processing the 3M vinyl film and adhesive sticker, the cnc knife cutting plotter machine is the best choice. Compare to the die mold cutting, there is no limit for the size and pattern during processing.
In addition, there is on need extra cost to open the mold while cutting the adhesive vinyl sticker by digital knife cutter plotter, thereby improving the production efficiency and reducing the cost.
How To Cut 3M Adhesive Sticker by Digital Cutter Plotter?
Step 1. Use an inkjet printer to print patterns on paper, film, kt board, pvc board or other kinds of materials.
Note: Please printing the black mark point with pattern for visual positioning if want to cut by CCD camera contour knife cutting plotter machine.
Step 2. According the patter to design and draw the vector file by Coreldraw / AutoCAD / Solidworks / Illustrator ect.

Step 3. Import the vector file to the Kinco software of digital knife cutting machine.
Step 4. Fix well the 3M adhesive vinyl sticker on the digital cutter plotter table.
Step 5. Open the CCD camera visual program and to set the mark location.
Step 6. Fix well the knife blade and other cutting parameters, the digital knife cutter plotter machine will cut the pattern automatically.
Application of 3M Vinyl Adhesive Sticker
1. Packaging industry
mark labels, postal parcels, letter packaging, shipping goods labels, envelope address labels.
2. Commodity industry
price label, product description label, shelf label, barcode label, drug label;
3. Chemical industry
labeling of paint materials, packaging labeling of automobile oil products, and labeling of various special solvent products;
4. Electronic appliances
5. Logistics industry
6. Automobile industry
It is mainly film, mainly used for decorative decals on automobiles and motorcycles, logo text on trademark windows, reflective films on highways, and markings on containers.
Except for cutting 3M vinyl film and adhesive sticker, other model of digital CNC knife cutting machine can also cut many other kinds of materials such as fabric oscillating cut machine, leather, pvc, gasket, rubber, cardboard knife cutter plotter, package box, foam pneumatic oscillating knife cut machine, EVA, fiberglass, carbon fiber, ect.
DEKCEL CNC with more than 10 years experience for CNC oscillating knife cutting machine, please offer us your request, we will offer you the best Oscillating Knife Cutting Solution for you.