panel furniture production line China manufacturer cnc router wood cutting machine
Views: 10 Author: Site Editor Publish Time: 2017-08-18 Origin: Site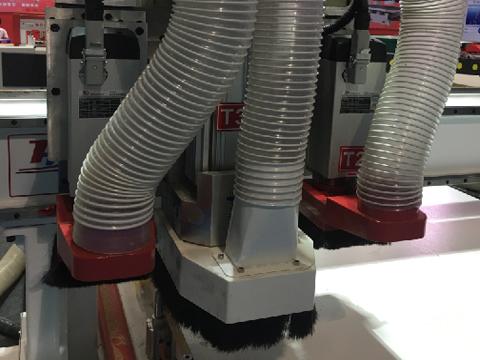 panel furniture production line China manufacturer cnc router wood cutting machine
We dekcel is invited to attend an big exhibition in Jinan at international exhibition center on August,18th for panel furniture. If you are a panel furniture manufacturer,you may be interested at what cnc machine should i choose? Which kind of cnc router for wood cutting machine configurations should i buy? I will answer these two questions one by on.
1.What cnc machine should i choose?
As to panel furniture production,if you are a panel wood furniture manufacturer,you have to buy at least three machines,one is woodworking cnc router center with PTP system,drilling processing center and cnc coating machining center etc. PTP can be translated as gas drilling row system,which is made for verticle drilling on wood furniture.With the help of PTP,woodworking cnc centers,equipped with two router heads can be used for making simple wood door or cabinet. Normally panel furniture production line will be matched with an automatic feeding system and an automatic unloading system,greatly saving hunman labor cost and increase the working efficiency at the same time. If you want to make some complex wood door or cabinet,the gas drilling row will be replaced by a circular automatic tool change system with average 12 router tools,
which will move with the router spindle during the processing,one router tools is put down to engrave one pattern,after it finished,the cnc wood cutting router machine will pick up another router tool at the circular auto tool change magazine,and so on. In a word,if you just want to do some simple wood door or cabinet,you can choose three process three heads cnc router,one head is gas drilling row,the other two are normal router heads. If you want to do some complex wood furniture,please choose one cnc router wood cutter with circular atc system.

2.Which kind of cnc router for wood cutting machine configurations should i buy?
As to the high quality panel furniture production line,the woodworking cnc routers will adopt high components,such as Syntec control system or NK 260 NC studio or Taiwan Delta control system etc rather than Rich auto DSP controller or NK105 control system; As to the wood engraving cnc router motors,we suggest you choose Japanese servo motors and drivers instead of domestic servo motors or stepper motors etc; As for the guide rails,you'd better choose Taiwan guide rails and TBI ball screw transmission and helical gear instead of straight gear etc.
If you think we are professional at panel furniture production line cnc router,if you are also interested at wood cutting cnc router machine,welcome to contact us immediately. Dekcel cnc equipment company has beed marketed at cnc machines for years,we have the ability to provide you best quality cnc woodworking routers.