Several common transmission systems of wood carving cnc router machine
Views: 163 Author: Site Editor Publish Time: 2017-06-29 Origin: Site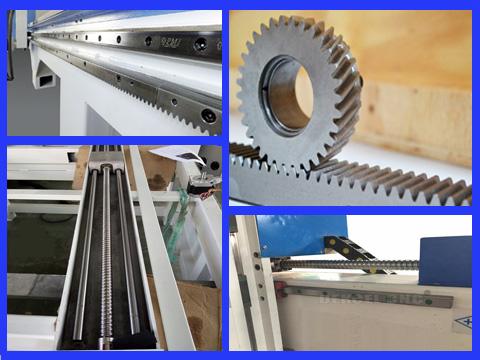 Several common transmission systems of wood carving cnc router:
gear and rack transimission of cnc wood carving machine



Gear and rack is an upgraded version,fast speed,low environmental requirements,relatively long service life compared with ball screw transimision,wood carving cnc router's X axis,Y axis adopts rack and gear transmision,Z axis ball screw transimision.Rack and gear transimision is suitable for large-sizecnc wood carving machine,easy maintenance,generally equipped with manual oiling system.Wood cnc router carving machine is mainly applicable to woodworking products processing,such as paint free door,cabinet door,solid wood door,screen and other plate cutting,hollow carving,relief,but also for processing stones,marble and granite.

2.ball screw transmission ofwood carving cnc router machine
Ball screw is the original transmission method,characterized by high precision,slow running speed,higher environmental requirements,a relatively short life span,Y shaft should not be too long (models can not be too large).With high-precision requirements,you can use the Y axis double screw structure,general processing speed is about 7 meters.Mainly applicable to advertising,wood products,small handicrafts and light stone,etc.You can engraving arbitrary materials according to different router tools.
3.belt transmission
Belt transmission is mainly used forlaser engraving machine and plasma cutting machine,high precision,good maintenance,easy to loose for a long time,affecting the machining precision.The laser machine is mainly used for the advertising industry,carving handicraft,cloth,leather, glass,stone,crystal and other non-metallic materials,also can be processed on some metal materials.