Cnc engraving router and ATC cnc carving router--the favorable choices for wooden doors
Views: 8 Author: Site Editor Publish Time: 2017-09-19 Origin: Site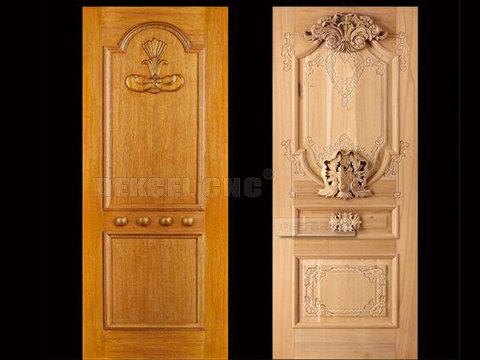 Cnc engraving router and ATC cnc carving router--the favorable choices for wooden doors
Jinan Dekcel Cnc Equipment Co., Ltd can customize the wooden door cnc engraving router according to customers needs. Most people know that wood doors need cnc engraving router. But there are many kinds of wooden doors and wood engraving cnc router machines. What kind of wood cnc engraving router is needed? Normally, it depends on the on the types the enterprise need.
First, we are going to talk about the type of wood doors. Some of them are very simple with some same simple lines. Then the wood carving cnc router with single spindle can be adopted and the price is cheap.
But there are also many wooded doors with complex lines and patterns. Mort importantly, the engraving thickness is not the same, and the shape of the line is also different. If users choose a wood cnc router with a single spindle to process and engrave such complex wood doors, the efficiency is very low. So at this time, the automatic tool changer wood cnc engraving router will be useful.
If there are three different lines, users are expected to use the three-process wood cnc engraving router. In that way, three knives can switch freely, which Greatly improve the processing efficiency. All in all, If there are many kinds different processing needing different tools, users are expected to choose ATC wood carving cnc router.
Hope this article will help you. If you have any questions about ATC wood carving cnc router price and qualities, please contact us as soon as possible. Jinan Dekcel Cnc Euipment Co., Ltd will always be there for you.