900mm*600mm laser engraving cnc machine 80w for nonmetal wood materials
Views: 12 Author: Site Editor Publish Time: 2017-08-02 Origin: Site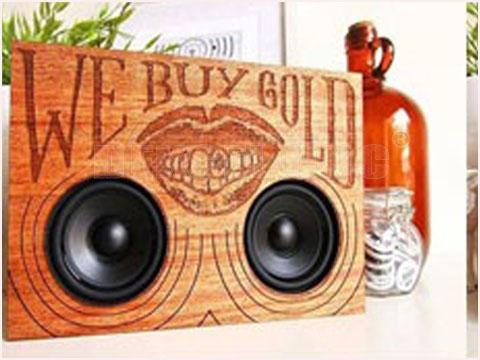 900mm*600mm laser engraving cnc machine 80w for nonmetal wood materials
What materials does the 80w laser engraver machine engrave? Yes, the Reci laser engraving machine can process the metal and nonmetal materials. Such as, wood, acrylic, leather, rubber, paper, stainless steel, carbon steel, aluminum and so on. Now a new design has emerged by nonmetal engraving laser machine.
The laser is the "fastest knife", "the most accurate ruler" and "the brightest light". When the fastest knife meets the music, a creative speaker is born.
This speaker of sound is built into the wood, the sound of the outside, through carving wooden appearance by using of laser engraver cnc. Regardless of what kind of pattern you want, that can be achieved by laser engraving technology and fully meet the needs of private custom.
The wood, after laser engraving, glow with new vitality. Finally the appearance of new sound is a artwork and set audio-visual enjoyment in one. The pattern on the sound seems complicated. In fact, it is only necessary to import the designed pattern into the high speed laser cutting machine. And the economical cnc laser engraver can easily create a unique speaker.
Not just sound box, small things in daily life are processed by wood laser engraving can also have unexpected results. The British designer CliveRoddy using birch making creative ring. The overall ring uses of laser cutting production, simple shapes, wood materials as well as the cheaper than metal ring, but interesting.
These are just a small application that laser technology used, actually compared to the wood processing, laser cutting technology is widely used in sheet metal and metal processing.
With the development of the times, the application of laser engraving cnc machine is more and more widespread. Laser cutting technology will gradually be integrated into our daily life. The nonmetal engraving laser machine with higher cutting speed and provides powerful engraving power and efficiency for users.
If you are interested in our wood nonmetal laser engraver machine, or have any question. Please contact Jinan Dekcel Cnc Equipment Company. We are support service 24 hours online.
Thanks for your time.