cnc co2 laser engraver machine for marble tombstone
Views: 13 Author: Site Editor Publish Time: 2017-08-10 Origin: Site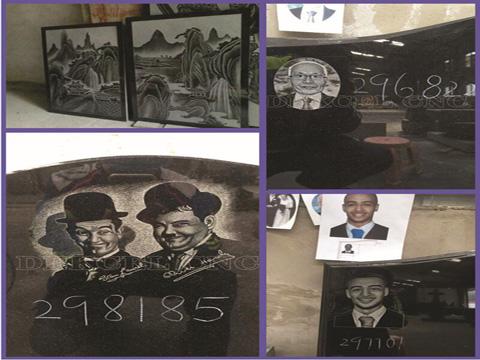 cnc co2 laser engraver machine for marble tombstone
Cnc laser engraver machine is a cnc machine designed for engraving all kinds of materials,such as wood,acrylic,marble,granite,plywood,bamboo,etc. Co2 laser engraver machine is very popular for clothing industry,wood art and crafts industry,acrylic advertising industry and so on. As to marble tombstone suppliers,laser engraving machine would be their best choice for engrave people or pets' faces on marble.
Stone laser engraving machine,as the name shows,which is used to carve stone (including marble, granite,and so on).Cnc stone engraver machine generally adopts open movable working table,so that the carving format is not restricted.Besides,as to marble laser engraver machine,you don't need to worry about the weight of stone.Deckel cnc stone carving machine is equipped with up and down table,which can meet the demands of carving marble of different depth.
1.After-sales service concerns: cnc co2 laser tube and reflect lenses are the consumables materials,have a certain life span,they are need to change into new ones in future.So it is necessary for co2 laser machine manufacturers to provide a good after-sales service,and you can change laser engraver compoenets in time without postponing your factory production.Some laser engraving machine users always look for very cheap China cnc laser engraver and buy a low price mable laser engraver.But six months later,when it is the time to replace the laser tube,the laser engraving equipment buyers cannot contact with cnc engraver co2 laser suppliers any more,they just disappear forever.
2.Price gaps:
As to cnc laser engraving marble machine,there is a big price gap between a top quality laser stone engraver and a bad-quality laser engraver for stone,for they are eqipped with different components.Take some examples:
A)stepper motor:
Carving accuracy is up to stepper motor of laser engraving cnc machine in a great degree,and some manufacturers choose to imported stepper motor,some laser marble engraver suppliers only use domestic stepper motor,some use umknown cheap motors.
B)laser lens:
Laser lens can greatly affect laser engraving machine power,there are two categories:sub-imported lenses,or domestic lenses.Domestic lens is divided into the one which use imported materials and the others which use only domestic materials.
C)Laser tube:
This is the most important part of co2 laser stone engraver.As the imported laser tube is so expensive, so most of co2 laser machines manufactures use domestic laser tubes.But there are still many kinds of laser tubes for you to choose,good qualiy but a little bit expensive,or bad quality but very cheap ones.
All these are totally up to you.But cnc laser engraving price is not the only factors for you to consider when buy a laser engraving machine.Please think it over and over before making an order.It is for your own benefit.Of course if you have any prolems about co2 laser engraving machine or want to know Dekcel laser engraver machine quality or price,just contact us immediately.