What is wood cnc engraver cutter? What is advertising cnc cutter router?
Views: 3 Author: Site Editor Publish Time: 2017-09-26 Origin: Site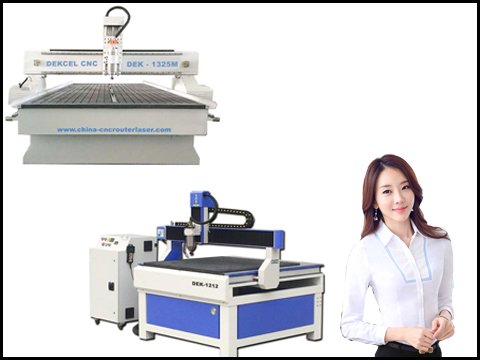 What is wood cnc engraver cutter? What is advertising cnc cutter router?
Jinan Dekcel cnc company produces wood engraving cnc router with skillful experiences. Normally, cnc router can be divided into many types, such as cnc wood router, ATC wood cnc router, stone cnc engraving machine, panel furniture cnc router production line etc. Among them, cnc wood router and advertising cnc router look exactly the same, but there are still some differences between these two cnc router. In the following part, Dekcel is going to introduce the differences. Please have a look.
With the development of cnc wood router machine, the configuration of the cnc router for advertising change a lot. Advertising cnc router is mainly used on engraving or cutting soft material such as acrylic, PVC,MDF. One cnc carving router for advertising is usually made by cast iron body,s mall power spindle, round rails, and DSP controller. The spindle power of the advertising cnc engraver cutter router is 800w, 1.5kw, 2.2kw. And the normal size of cnc advertising router is 400*400*80mm, 600*900*80mm, 1200*1200*120mm, 1200*2400*120mm, 1300*2500*120mm.
CNC wood router machine is a computer-controlled cutting machine related to the hand held cnc router used for cutting various hard materials, such as wood, composites, aluminium, steel, plastics, and foams. CNC stands for computer numerical control. CNC routers for carving and cutting can perform the tasks of many carpentry shop machines such as the panel saw, the spindle moulder, and the boring machine. The cnc wood router machine can also cut mortises and tenons
Hope this article will help you. If you have any questions about wood carving cnc router price and qualities, please contact us as soon as possible. Jinan Dekcel Cnc Euipment Co., Ltd will always be there for you.