Comparison between water-cooling router spindle and air-cooling wood router spindle and its maintenance solutions
Views: 24 Author: Site Editor Publish Time: 2017-07-20 Origin: Site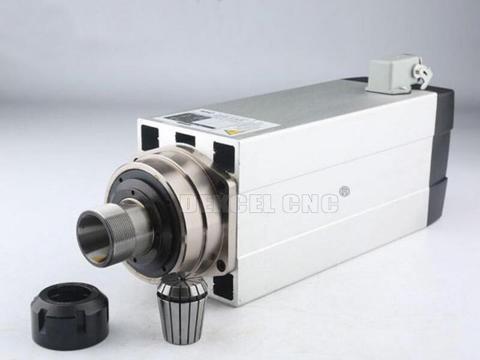 Comparison between water-cooling spindle and air-cooling spindle and its maintenance solutions
The difference between the water-cooled spindle and the air-cooled spindle:
First,the water temperature
Water-cooling spindle of cnc router wood machinemake use of water circulation to cool the spindle after the high-speed rotation of the heat.At this situation,cnc woodworking router wood machine cooling effect is very good,for the water temperature after circulation(commonly test)will be less than 40 degrees;air-cooled spindle of wood carving cnc router uses fan to exit heat,its cooling effect is certainly not as good as water-cooling spindle,generally its temperature is above 50 degrees.
Second,the noise
Basically wood engraving with a cnc router water-cooled spindle has no noise,but the air-cooling spindle has a little bit noise.
Third,the service life
In summer,we need to change the cooling water from time to time,so that the wood cutting cnc router spindle will not get so hot.But air-cooling spindle don't need to do that.Therefore air-cooling spindle of cnc wood cutting and engraving machine has longer service lifetime than water-cooling spindle.
water-cooled spindle maintenance solution:

Somewood engraving cnc router machine buyers who engage in wood embossed processing industry must be clear that some wood chips will easily fall into the circulating water,the cheap cnc wood router spindle maybe get blocked for a long time.Once this happens,please take timely measures to remove the chips inside the wood cnc routing machine spindle.
The best way is to maintain cnc router spindle is replace the circulating water every day.You can also add a layer of filter at the output end of water pump,which can also effectively reduce the impurity into the spindle.Once the wood carving cnc router spindle is blocked,we can blow several times by air compressor with air pipe connected to the high speed cnc woodworking machine spindle inlet pipe,to solve the problem of congestion.During the wood cnc router china machine usual working hours,please regularly touch the spindle.If the temperature is too high,please check the wood cnc router table quality water pump carefully.