Useful tips! How to choose the best wood cutting engraving cnc router?
Views: 17 Author: Site Editor Publish Time: 2017-09-28 Origin: Site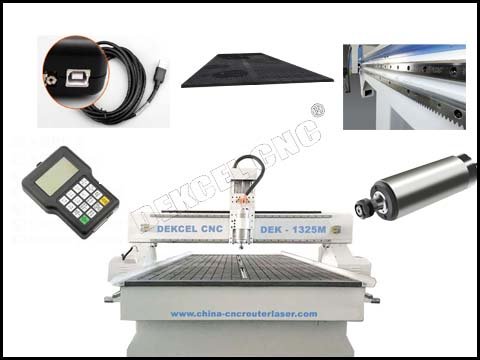 Useful tips! How to choose the best wood cutting engraving cnc router?
Firstly, users of industrial wood engraving cutting cnc router should pay attention to the spindle motor. Cnc wood router spindles are usually divided into two types: precision processing spindles and high power cutting spindles. Fine machining spindle of quality wood cnc router is characterized by low noise, high speed and suitable for cutting and engraving special fine parts, such as seals, nameplate, badges and other gifts. For high power cutting spindle of cnc wood carving router, it is characterized by large power, strong cutting ability, especially suitable for cutting the word, also can make chest cards, nameplate, seal etc.
Secondly, it is about the choice of type of cnc wood engraver router cutter. They can be chosen according to their own work content, including the size of work piece, materials and so on. Generally speaking, the wood cutting cnc engraving router machine of large working table is bigger than 1200mm, which is suitable for sawing and making some large flat instead of fine works like double color plates. For those cnc wood engraving cutting router of working table size smaller than 1200mm, the acceptance is very good, which can be used for engraving fine works as well as tough works like sawing word.
In addition, the use of cnc woodworking cutting engraving router machine is also a crucial part. During the working period, users of cnc wood carving router are expected to focus on the environmental problems, such as keeping it away form the equipment of strong electricity, strong magnetic features which seriously impact the signal transmission. the machine can not work in a strong acid and strong alkali environment for long hours. At the same time, operators should be able to correctly use the software, such as Artcut, type3, ArtCAM and so on.
Application industry
Advertising industry: advertising signs, logo production, acrylic cutting, plastic mold, a variety of materials advertising decorative products.
Mold industry: copper, aluminum, iron and other metal mold, as well as artificial marble, sand and gravel, plastic board, PVC pipe, wood and other non-metallic mold.
Woodworking industry: three-dimensional wave board processing, cabinet doors, solid wood doors, wooden craft, paint free door, screen, craft window processing, shoe polisher, game cabinets and panels, mahjong table, computer aided machining table and panel furniture products.
Other industries: various large relief carving, shadow carving, widely used in handicraft industry.
Hope this articel will help you. Jinan Dekcel Cnc Equipment Co.,Ltd will always be at your service. Looking forward to doing business with you!