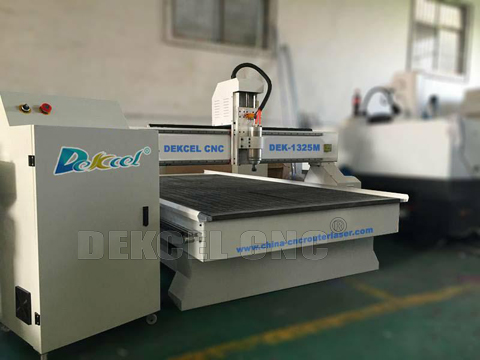 The common problems of the choice of sale 1325 wood cnc engraving router
1. I am a manufacturer of home decoration, and want to buy a 1325 cnc router for wood engraving. Could you please tell me the price of it and recommend a proper 1325 wood carving cnc router by using your professional knowledge. In addition , what is the fastest speed of your company Dekcel's 1325 wood cnc router? If we want to engrave some ceramic tile and stone, is it ok? Do we need to add the extra parts? In addition, is there a oiling system equipped with your 1325 wood cnc router for furniture decoration industry?
Generally, for decoration industry, the price of 1325 cnc woodworking engraving router machine are above 4800 dollars. The 1325 cnc wood carving router machine of Standard configuration is 4600 dollars. Heavy duty, rack square rail, 3.0KW spindle motor, including T-slot working table, Richauto DSP controller, etc. The standard 1325 wood carving router machine is also good at wooden door industry. If users of wood cnc router want to use the spindle of bigger power, 4.5KW or 3.5KW air cooling and water-cooling spindle also could be chosen. At the same time, the price will be a little higher. Large motor with strong power could engrave MDF of 18mm-22mm. For 5mm, 8mm, 9mm, 12mm, 15mm MDF, 3.5kw or 3.2Kw water cooling spindle or air cooling spindle is a better choice. When it comes to MDF, the general engraving speed is 8-10m/min. I t is okay if users want to engrave the ceramic tiles and stone, just a water tank needs to be added. For the oiling system, yes, Dekcel wood cnc router usually have the hand oiling system or automatic oiling system for you to choose.
2.I'd like to make wooden doors for domestic and foreign markets, could you please recommend me the proper configurations? If I want to make non-painting wooden door, do you have the laminating machine?
Generally, the manufacturers who make solid non-painting wooded doors, 1325 wood cn c engraving router engraver with rack and gear transmission and 3.0KW water cooling spindle wil be okay. Since the round rail doesn't work very well, so It's not recommended. Users of wood cnc router can choose the machine with rack square rail, which is wear-resisting and with high precision. The price of the square rail is about 800 dollars higher than the round rail. Dekcel also provides laminating machine. If you are interested, please tell me the size you want. the price is generally around from 4 thousand dollars to 5 thousand dollars.
Double heads or three heads ATC (automatic tool changer) wood cnc router machines are also the popular choices for wooden door industries. The knife could be automatically changed which applies to the doors with complex process. The ATC cnc wood engraving router machine is with high precision and high efficiency. Generally speaking, the air cooling spindles are recommended. But the actual choice is up to your demands and your countries weather temperature. Normally, for countries with low temperature, the air cooling spindle is a good choice.
3.I am working on Antique furniture engraving, and want a multi head wood cnc router engraver. Would you please recommend a proper cnc wood engraving machine router for me? And the price? The configurations? How many heads or spindles will be equipped with the cnc router for antique furniture engraving industry? How about the fastest speed?
For antique and classical furniture embossed sculpture, users could choose multi head wood cnc engraving router machine to improve efficiency. First, we need to certain the size of your wood material, then ensure the amount of the heads or spindles. Normally speaking, there are two heads, four heads, six heads, eight heads etc. The wood cnc router for furniture engraving with four heads, rack transmission and 2.2kw water cooling spindle is the most popular match. For the engraving speed, it is usually 4-8mm/min.
4. I am the manufacturer of crafts and want a small type wood cnc router engraving machine. How much is it? What about the configurations?
For crafts, we need to know the materials you want to engrave? The wood material or the jade? Just for the plain engraving or including the 3D carving? I f it is the standard 9060 wood cnc router, with ball screw transmission, round rail, 1.5 kw spindle, the price is around 2500 dollars; if using 2.2kw water cooling spindle, the price is 200 dollars higher than 1.5kw. For XYZ axis, which all with square rails, the other 500 dollars will be added. For 6090 stone engraving machine, the price is about 3000 dollars. If you want to engrave the stone cylinder, the rotary device will be needed.
5. Why the price of your wood cnc router is higher than others? Do you have any advantages?
Each factory has different requirements for configurations and after-sale service. It is a truth that no matter how cheap the wood cnc engraving router is, there are always other wood cnc router with cheaper price existing. You get what you pay for. If you want the cheap wood cnc router, of course we could do that. But different prices are for different configurations. Remember, the low price will get the poor quality wood cnc engraving router machine. According to the customers actual situation, we will recommend the most proper cnc engraving router with a reasonable price. Please don't worry about this question. In addition, it is about our after-sale service. Our guarantee time is one year. If Dekcel wood cnc router has any problem within a year, please contact us any time. We will help you deal with it wholeheartedly.
6. I am producing cabinet including European style cabinet. How much does the wood cnc engraving router with two independent heads? For 1325 type, what is the largest working size for each head? How about the control system for cnc wood carving router? And what about the control software?
1300*2500mm wood cnc machine for engraving, two independent heads, 3.2kw water cooling spindle, vacuum table with vacuum pump, the price is around 7500 dollars, if without vacuum table, 400 dollars will be reduced. Normally, the industrial wood cnc router with air cooling spindle is more expensive than water cooling spindle. Since the air cooling spindle has more power than water cooling spindle, with durable features and will not be affected in winter. But on the other hand, the the noisy of air cooling spindle is louder.
For 1325 cnc wood carving router machine with two independent spindles, the engraving size of each spindle is within 600mm. And for control system, the most common one is Shanghai Weihong NC studio and DSP controller.
For European wooden doors, because of the different patterns on the doors, usually the engraving work will be done with more than three knifes. In this case, users could choose double process or three process wood cnc router, which is designed to do different works.
For the common software, they are JDpaint, Artcut, Artcam, CAD etc.
1)JDpaint: suitable for embossed products or cylinder 3d engraving products, such as the antique furniture embossed industry.
2)Artcut: used for designing words, the simple single design, such as the advertising industry, the plaque engraving industry or decoration industry.
3)Artcam is similar with the use of JDpaint.
CAD is usually used for graphic design, such as flower lattice hollow process, frame production, wooden drawings.
Hope this article will help you. Jinan Dekcel cnc company will always be at your service.