Points for safe operation of cnc laser cutter machine
Views: 619 Author: Site Editor Publish Time: 2017-06-26 Origin: Site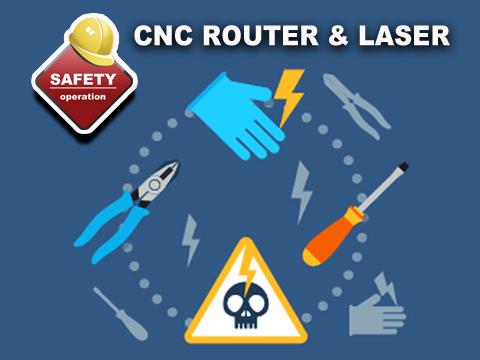 Points for safe operation of cnc laser cutter machine
Nowadays, the right cnc laser cutter machine operation not only saves manpower, but also greatly improves production efficiency.However, cnc metal cutter machinery itself is potentially dangerous, and if not properly used, it can lead to accidents and have a huge impact on society and families.The following points should be noted when operating a cnc laser cutter machine:
To avoid electrical shock while checking the laser cutter equipment
1.Please do not touch any electrical components in the cabinet and operating table when the co2 laser cutter machine is energized or is running.Otherwise it would be electrocuted.
2.Please do not use wet hands to operate any cnc metal laser cutter switch to prevent electric shock
3.Please do not check the cable or replace the electrical components, or you will be electrocuted or injured
4.In case of accident - Repair and maintenance works of electrical components shall be conducted by qualified electric technicians and strictly follow the electrical maintenance technical requirements to maintain the laser cutter machine.
Fire prevention when laser cutter machine working
1.The auxiliary gas used by metal laser cutter ( plasma metal cutter or 150w co2 laser cutter ) is flammable gas such as Oxygen, acetylene, propane, liquefied gas, etc.Therefore, it is necessary to periodically check whether the whole gas circuit is well sealed.
2.The air source of metal plasma cutter machine should be kept away from open flame and put normal carbon dioxide or other fire extinguishing units nearby,the worker must know where is the exit.
Hope this article will help you. If you have any questions, please contact us as soon as possible. Jinan Dekcel Cnc Euipment Co., Ltd will always be there for you.