How to solve the little problems of wood engraving cnc router for furniture industry
Views: 5 Author: Site Editor Publish Time: 2017-07-10 Origin: Site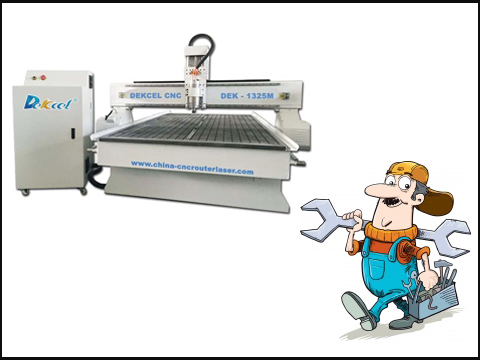 How to solve the little problems of wood engraving cnc router for furniture industry
Jinan Dekcel cnc company provides cnc wood carving router. As we all know, it is common to meet many problems during the working period. If there is something wrong with the components of cnc router for wood carving, users could do a simple testing. The following are some advises Dekcel professionals give when users check the cnc wood carving router machine themselves.
1, To check whether the parts of the screws loose or not.
2, To see if the computer processes the wrong steps because of the large or uncorrect file.
3, To check if the path is correct and smooth or not.
4, Loosen the knife chuck, then put the knife in the direction of clamping and put the knife in place to make the engraving wood plate clean and neat.
5, Increase and decrease the spindle speed to adapt to different materials (usually 18000-24000)
6, To heck whether the tool is damaged. If yes, replacing a new knife and engraving the path again.
A large number of experiments have proved that the small faults happened to the general engraving machine can be basically solved by these small tests. If you have other problems cannot be solved, please contact Dekcel Cnc Equipment Co., Ltd., we will always be there for you.
In order to give users the best convenience, Dekcel cnc company launches Woodworking cnc router machine with DSP control system and Cnc router with rotary for woodworking manufacturer .
Hope this article will help you. If you have any questions, please contact us as soon as possible. Jinan Dekcel Cnc Euipment Co., Ltd will always be there for you.