Big Large format laser marking machine widely used in various industries
Views:40 Author:Site Editor Publish Time: 2019-04-02 Origin:Site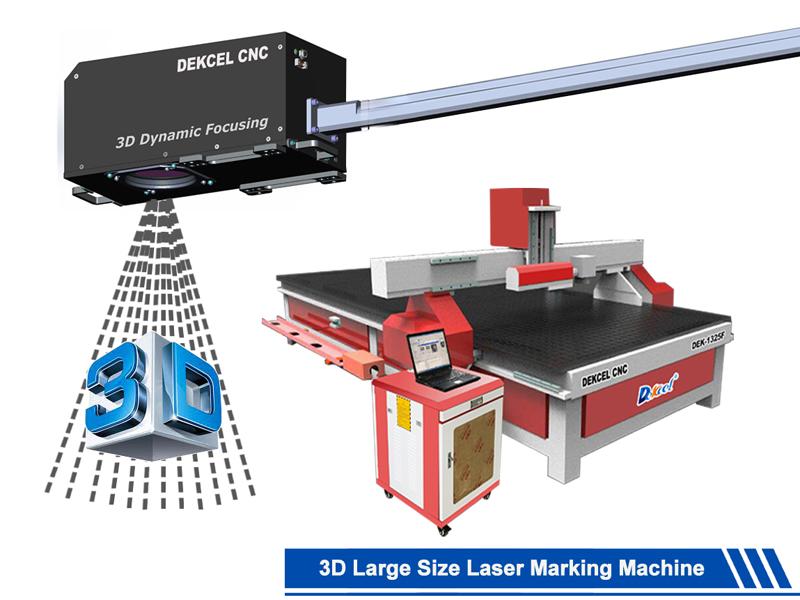 Laser marking machine is a marking method that uses a high-energy-density laser to locally illuminate a workpiece to vaporize the surface material or cause a color change, thereby leaving a mark that is long-lasting and clear, and is not easily worn.Laser marking machine high marking precision,fast speed and clear marking.
Ordinary laser marking machine largest marking format is 300*300mm. In order to meet some customer needs to mark large-format materials, Dekcel has developed a large format laser marking machine. The biggest advantage of this equipment is that it can efficiently mark large-sized workpieces.
Advantages of large format laser marking machine:
● Large marking format, and it can easily complete all kinds of marking processing, creating rich value for customers;
● Good marking effect, It can mark all kinds of fine and complex patterns required by users on very small surfaces, and the product yield is good;
● Fast marking speed and high efficiency, suitable for high-volume processing needs;
● Long service life, high electro-optical conversion rate, maintenance-free, saving processing costs for customers.
This large format/size laser marking machine is widely used in electronic components, hardware tools, electrical products, consumer goods, sensors, auto parts, 3C electronics, handicrafts, precision equipment, gift accessories, medical equipment, high and low voltage electrical appliances, sanitary ware. battery industry, IT industry and other fields, especially suitable for high-end market, luxury goods industry, high-volume processing customers.