Three types of Small wood engraving cnc router for crafts industry
Views: 13 Author: Site Editor Publish Time: 2017-09-20 Origin: Site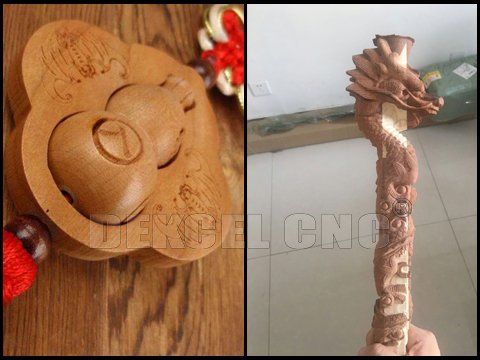 Three types of Small wood engraving cnc router for crafts industry
Jinan dekcel cnc company offers small wood cnc router for crafts industry. At the same time, there are many types of cnc router for wood crafts products. In the following passage, Dekcel is going to share three types of wood cnc router for decoration and crafts.
First, 900*600mm is one of the most popular one. 9060 small wood cnc router is suitable for engraving and cutting small gifts such as carving, wooden pendants, ornaments, peach wood sword and some small stereo processing. All users do is add rotary device, which can process a three-dimensional gift. Therefore, small wood cnc router has won a big market of crafts industry.
Second, if it is a three-dimensional handicraft processing, such as statues and other statues. According to the complexity , the proposed three-dimensional three axis models or four axis linkage engraving cnc router will be needed. Of course, if there is only a small number of processing needs of 3D products, and the most demand is for plane engraving, users can use the general plane engraving cnc router with a rotary device.
Last but not least, small multi-heads pull type wood relief cnc router is mainly suitable for plaques, wall decorations, hanging pictures, etc. The size of the bed and the number of spindles can be recommended according to the specific width of processing. If it is a wall painting of large scale , it is necessary to use a single head wood relief cnc router. The size of the specific bed depends on the size of the murals. If the processing material is stone or ceramic, stone engraving cnc router can be used.
Hope this article will help you. If you have any questions about wood carving cnc router price and qualities, please contact us as soon as possible. Jinan Dekcel Cnc Euipment Co., Ltd will always be there for you.