The daily maintenance of cnc co2 laser engraving and cutting machine users need to know
Views: 33 Author: Site Editor Publish Time: 2017-09-09 Origin: Site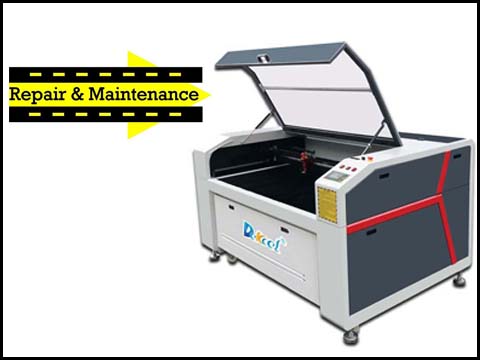 The daily maintenance of cnc co2 laser engraving and cutting machine users need to know
Jinan dekcel cnc company offers cnc co2 laser cutting and engraving machine for metal nonmetal. As we all know, the co2 laser cutter and engraver itself needs users to pay attention to the daily repaire and maintenannce. How? In the following part, Dekcel is going to share several tipes for the maintenance for cnc co2 cutting and engraving machine.
1.Special need: adjust the light intensity below 20MA, in case the laser tube of co2 laser cutting and engraving machine aging rapidly.
2.Users of cnc co2 laser engrave and cutter need to pay attention to the clearance of the reflective mirrors and focus lens. Otherwise it is must to readjust the light path.
3.It is a strictly prohibition to circulating water of poor quality . Bad circulating water can seriously affect the laser power and greatly shorten the service life of the laser tube. The damage of the laser tube caused by the user's poor circulating water is not in the scope of warranty. Clean water is recommended.
4.Before each engraving or cutting operation, users of cnc co2 laser cutter and engraver are expected to pay attention to clean the focus lens. Incorrect focus length will seriously affect the engraving effect.
5., The third reflective mirror and focus lens of co2 laser cutting and engraving machine must be removed off and then to be cleaned. The re- installation must be firm, but not too tight, so as to avoid breaking the lens.
6.Cleaning work should be done at the end of job every time.
7. Clean the focus lens every day before users turn on the cnc co2 laser cutting and engraving machine for metal nonmetal.
8. Clean the peripheral equipment (exhaust fun, air pump, etc.) every other week.
9.The cooling water can not be less than 30 liters, and must be submerged water pump.
10. During the operation process, users of co2 laser cutter for metal nonmetal must always monitor the water temperature. Once the water temperature has the sign of increasing, please immediately change water (method: spare part of hot water and pour the cold water into the water bucket or water chiller box)
If you have any questions about cnc co2 laser engraving and cutting machine for metal and nonmetal, please contact us. Jinan Dekcel Cnc Equipment Co.,Ltd will always be there for you.