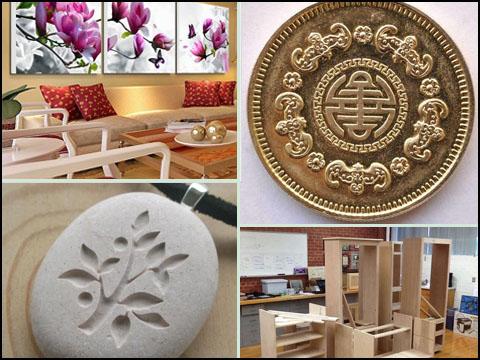 The application industries and materials of the cnc router machine

With the repaid development of the economy, Jinan Dekcel Cnc Equipment Company has lunched many kinds of cnc router engraving machine for sale. And the cnc router machine can divided into different types, such as woodworking engraving cnc router machine, cnc marble stone carving machine, cnc advertising wood engraving machine an so on according to different processing materials.
Cnc router engraving machine from the processing principle, is a combination of drilling, milling, engraving cnc machine. Because cnc router engraving machines have a wide range of applications, it is necessary to understand the best range of applications for cnc router engraving machines. And the cnc router machine is also divided into small power and big power machine. Small power of the cnc router machine is only suitable for carving double color swatches, architectural models, small signs, three-dimensional handicrafts, etc.. if you want to carving jade, metal and so on, the power of the cnc router needs to be above 1500W. High power engraving machine can do little power engraving machine things. The most suitable for carving large-scale cutting, relief, sculpture.
Woodworking engraving cnc router machine
The woodworking cnc router engraving machine is used in the furniture industry, furniture decoration industry, woodworking industry, wooden handicraft industry. This wood carving cnc router machine is suitable for large area plate engraving, wood furniture, wood carving, MDF door window carving. That is the furniture decoration industry replacement products.
Wooden industrial products: such as sewing machine table top, electrical appliance cabinet panel, sports equipment and so on.
Mould industry: cnc mold engraving router machine can carve each kind of mold, wood, wooden propeller, aviation, automotive foam mould.
Instrument industry: engraving three-dimensional surface of instrument and contour cutting.
With the people's understanding and mastering of advertising engraving machine, the scope of application and level will gradually improve, such as advertising industry, seal industry, craft gift industry, art model industry, wooden processing industry, mold industry, etc.. the processing materials include acrylic, double color swatches, PVC, ABS boards, stone, imitation stone, metal, aluminium plastic board etc..
Handicraft industry: handicrafts, souvenirs on making all kinds of text, graphics, iron art sculpture, dial.
Seal industry: conveniently in the horn, plastic, wood, organic board, storage pad material seal.
Main application
Advertising industry, process industry, mould industry, electronics industry, construction industry, printing and packing industry, wooden industry, decoration industry, tombstone industry, crystal product industry, etc..
Acrylic organic board, PVC board, double color board, carpentry board, density board, marble, fireproof board, rubber board, glass, crystal and so on.
Business object
Advertising companies, decoration companies, hotels, hotels, shopping centers, schools, hospitals, office buildings, entertainment places, bath centers, groups, enterprises, administrative organs, etc..
So the cnc router machine is widely used in many kinds of industries. And we can see many different products that are made of cnc router machine. Such as the tombstone, 2D or 3D statue, acrylic board, wood furniture, wood door, wood window and so on. In a word, we can see the products in our daily life everywhere.
And using the cnc router machine has many advantages. The cnc machine with high speed can reduce processing time, save time so that improve the competitiveness in the market. In addition, using the cnc router engraving machine can also reduce the labor and save cost.
And in order to adapt to the development of the times, more and more people choose the cnc router for their work. So the Jinan Dekcel Cnc Equipment Company is decided to lunch economical woodworking engraving cnc router machine for sale. Anyway that is a good chance for customers. And Jinan Dekcel Cnc Equipment Company focus on cnc laser, cnc router, cnc plasma cutter, oscillating knife cutting machine many years. There are many different kinds of cnc machines you can choose.
If you are interested in our cnc router machine for your work. No matter you are a master or green hand, the stall of Jinan Dekcel Cnc Equipment Company has many years experience, we can provide you a most suitable cnc router machine your work as soon as received your inquiry. If you choose us. We don't let you down. In addition, our company can also offer good after-sale service for each customer.
If you are interested in our cnc router machine, or have any question about the cnc machine. Please contact Jinan Dekcel Cnc Equipment Company. We are support service 24 hours online. Thanks for your time.