8-20mm corrugated board cutting system China manufacturers
Views: 25 Author: Site Editor Publish Time: 2017-08-24 Origin: Site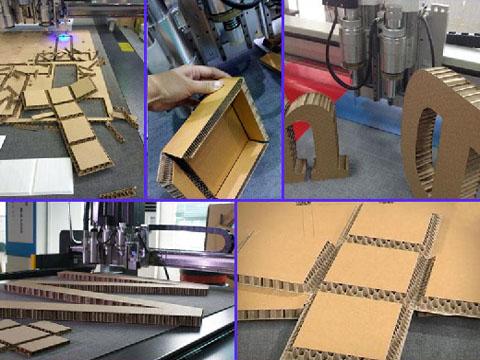 8-20mm corrugated board cutting system China manufacturers
Oscillating knife cutting system is a new design at the suitation of big force for the environment production,a lot of China cnc machines mannufacturers are forced to shut up their factories.You may ask why? What's the difference of digital oscillating knife cutter from other cnc machinery? The answer is that cnc oscillation knife cutting machine is totall environment friendly,is like a kind of "green food" in the cnc machiney industry. And cnc oscillation knife cutting system has an increasingly wide applications.Today i am gonna share the cnc oscillating knife cutter machine application in packaging industry.
The materials related to packaging industry covers carton board,paper board,corrugated board,honeycomb board,grey cardboard etc. What a coincidence,these materials can all be cut by cnc oscillating knife cutter machinery. Generally speaking,oscillation knife cutter is composed of knife tools,vacuum working table and vacuum pump,drivers and motors,guide rails and synchronous belts,control systems,red point production system etc. When it is time to cut different materials,different types and sizes knife tools will be needed. For instance,if you want to cut 8-20mm corrugated board,V-cut cut tools is suggested,for the tools are much longger,which enable itself to cut thick materials.If you want to cut paper board or carton board,oscillating knife cut heads and creasing wheels will be needed. First of all,use the creasing wheels make the folding lines,locate the approximate tool path,than use the oscillating knife cut heads to cut the carton board or paper board.
Oscillating knife cutting systems knife tools:
3mm creasing wheel,creasing thickness is between 3mm and 5mm corrugated board.
5mm creasing wheel,creasing thickness:Between 5mm and 7mm corrugated board.
7mm creasing wheel,creasing thickness:Between 7mm and 10mm corrugated board.
2mm creasing wheel,creasing thickness:Within 2mm,such as corrugated board,paper board,kraft paper,grey board,offset board and compound materials etc.
If you want to know more about oscillating knife cutting system,welcome to consult us. Jinan Dekcel cnc equippment company is glad to help you. And we believe oscillation knife cutter machinerywill be applied in more and more industries in near future.