The main configurations and advantages of wood engraver cutter router machine for furniture
Views: 8 Author: Site Editor Publish Time: 2017-09-29 Origin: Site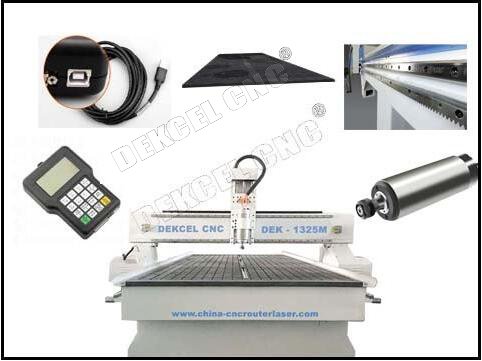 The main configurations and advantages of wood engraver cutter router machine for furniture
Jinan Dekcel cnc company is the manufacturer cum seller of wood cnc router engraver cutter machine. With the mature technology and prpfessional workers, it develops musch faster nowadays. For cnc wood cutter engraver router machine, it can be suitable to furniture industry, advertising industry, decoration industry, plate processing industry etc. There are many different configurations to match it.In the following part, Dekcel cnc company is going to introduce the most basic configurations of wood cnc router cutter router machine and their advantages.
Bed: steel structure with 8mm welding pipe
Rack: high precision helical rack and straight rack, which match the square rack.
Ball Screw: generally, Dekcel adopts Taiwan's TBI brand. For cnc router carving machine for advertising industry, XYZ three axis will use ball screw to drive. For cnc wood engraver router cutter with rack transmission, XY axis use rack to drive, and Z axis uses screw.
Guide rail: square rail and round rail. Square rail is generally imported from Taiwan. It has high precision and strong wear resistance. It is used in high-end cnc wood engraving machine. The precision of round rail precision is low and the price is cheap.
Table: T-Slot table with aluminum profile with PVC or vacuum table for absorption, or the working table which can both absorb and clip.
The inverter: Shanghai Fu ling brand, which is used to adjust spindle speed. 1.5/2.2/3.7/5.5/7.5kw inverter's main function is to receive the controller signal, outputting high speed pulse and adjust the power supply frequency to make the best performance for wood carving cnc router spindle.
Spindle motor: be divided into water-cooling spindle motor and air-cooling spindle motor, water-cooled speed of 0-24000rmp, air cooling spindle speed is 0-18000rmp. The speed is adjustable, and match the inverter of wood cnc router engraving machine.
The step motor / servo motor: Chindese brand: Leadshine stepper motor, Leadshine hybrid servo motor, Changzhou Chuangwei stepper motor.
The driver: it matches the brand of motor. For example, Shenzhen Leadshine 860 or Shenzhen Yankong 2811. Driver has the function of accepting the pulse provided by the controller. The wood engraving cnc router generates a fixed square pulse when it gets a full square wave pulse.
Japan brand: YASKAWA servo motor, Panasonic servo motor.
Control system: Weihong NC Studio control (by a computer, online); DSP handle control; Taiwan Synteck etc.
Hope this articel will help you. Jinan Dekcel Cnc Equipment Co.,Ltd will always be at your service. Looking forward to doing business with you!