Oscillating knife cutting machine Tools classifications
Views: 1021 Author: Site Editor Publish Time: 2017-08-12 Origin: Site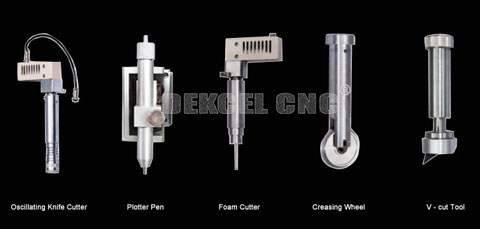 Oscillating knife cutting machine Tools classifications
Jinan Dekcel Cnc Company researches and develops the oscillation knife cutter for over ten years with the mature technology and creative spirit, which help Dekcel cnc company win a good reputation among the circle of cnc machine. Most customers may not know that different materials have different tools for oscillation knife cutting machine plotter. It mainly has five different tools according to the different hardness level of the materials, which includes normal oscillation knife cutting tool, the round knife tool, the crease, the V cut and the foam knife cutting tool. In the following passage, Dekcel is going to introduce the features of these different knife tools of the oscillating knife cutting machine for leather, foam, rubber, fabric etc.
First, it is normal oscillation knife cutting tool. Like the following picture,which is suitable for leather, cardboard, plastic, paper, rubber, PE foam, KT board etc.
Second, it is about the round knife tool.( the following picture) it is mainly used for soft materials like fabric, fur, plush toys, cloth etc.
Third, it is the crease wheel, which mainly designed to make carton box, various box.
Fourth, it is about the V cutting tool, which focuses on corrugated board.
Fifth, the Foam knife cutting tool is mainly designed to cutting EVA foam, cell foam, rubber foam, foam core, EPE foam etc.
Hope this article will help you. Jinan Dekcel cnc Comapny will always be at your sercvice.