CCD Camera contour oscillating knife blade cutter machine delivery to Romania customer
Views: 162 Author: Site Editor Publish Time: 2020-03-02 Origin: Site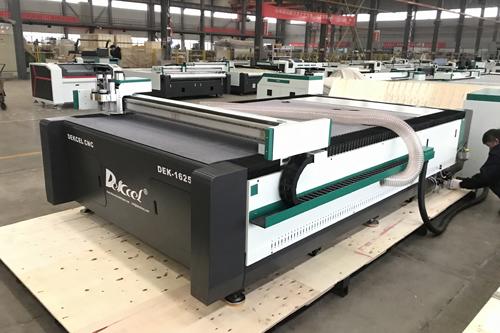 DEK-1625M CCD Camera oscillating knife blade cutter machine delivery to Romania customer
China digital oscillating knife cutting machine with cost price for sale,our machine can be equipped with electric oscillating cut tool and pneumatic oscillating tool,which is designed to cut carton board,cardboard,corrugated board,honeycomb board,PVC,KT board,EPE,PE foam,and some soft material like fabric,leather,cloth,vinyl,textile garment,fiberglass,carbon fiber fabric and so on.

Advantage of oscillating knife blade cutting machine

1.Environmental protection: our digital oscillating cutter machine with knife blade cutting, there is no smoke and harmful gas while cutting, it is good for the operators healthy and working environment.
2.Economy: low price,reduce the cost of related industry.
3.Japan Panasonic servo motor and driver for transmission system, ensure the high accuracy cutting with fast cutting speed.
4.The anti-collision and the built in auto sensing device ensure the security of CNC oscillating knife cutter,can effectively protect the safety of the operator.
5.No mold, successfully replaced the traditional die-cutting, without cutting graphical restrictions, cutting speed, short processing cycle.
6.Machine with CCD camera visual contour cutting system, easily to cut the printed KT board,PVC board,fabric,cardboard ect.
DEK-1625M CCD camera oscillating knife contour cutter tools and application
1.Electric oscillating tool with V-cutter tool or creasing wheel maily used for cutting corrugated board, honeycomb baord, carton board, cardboard
( From let to right : Electric oscillating tool + Visual Contour Cutting CCD camera + V-cutter / Creasing Wheel ).
2.Pneumatic oscillating knife blade cutting tool mainly used for some more thickness materials such as EPE, PE foam, EVA , 30mm-50mm corrugated baord ect.
3.CCD camera contour cutter plotter machine function for printed KT board,PVC board, foamed board, cardbaord, fabric or other kinds printing material.
DEKCEL CNC have 10 years experience for digital oscillating knife cutter plotter machine production,we can customized the machine solution according your cutting request.
Free Sample Testing
Please contack us if you want to test and cut your materials.
Thanks for your reading .
24 hours service for you.