How to maintain the cnc wood engraver router water cooling spindle to prolong service life
Views: 6 Author: Site Editor Publish Time: 2017-07-29 Origin: Site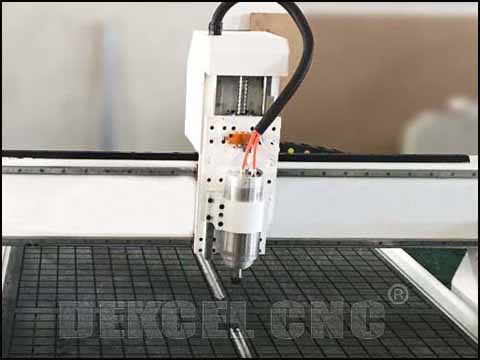 How to maintain the cnc wood engraver router water cooling spindle to prolong service life
Jinan dekcel cnc company offers wood carving China cnc router for sale with attractive price and good quality. As we all know, the spindle is a very important part of cnc wood engraving router machine, which mainly divides into two kinds: water-cooled spindle and air-cooled spindle. Here, Dekcel cnc company will introduce the maintenance of the cnc wood carving router water cooling spindle.
First, we'd like to introduce the working principle of the cnc router wood carving machine's water cooling spindle. The so-called water cooling is to use water circulation to cool the heat generated by the spindle rotating at high speed, which is designed to protect the spindle and prolong the life of wood carving cnc router machine.
Therefore, the water has been recycled. Users of cnc router for wood engraving must ensure that the water quality is clean to avoid the water cooling spindle's water pipe of cnc wood engraving router machine blocked. In addition, a filter screen can be arranged on the water outlet of the water pump. But users of wood cnc engraving router should pay attention to the spindle temperature during the wood engraving process. Users are expected to check if the water flow is normal or not when the temperature rises.
What's more, customers of wood cnc router engraver are supposed to be careful not to allow debris from the process to enter the circulating water. Anyway, no matter what type the machine is, it always need the reasonable maintenance.
Hope this article will help you. If you have any questions about wood carving cnc router price and qualities, please contact us as soon as possible. Jinan Dekcel Cnc Euipment Co., Ltd will always be there for you.