The easiest way to choose CNC wood Carving Router controller from MACH 3,NC STUDIO and DSP
Views: 193 Author: Site Editor Publish Time: 2017-07-05 Origin: Site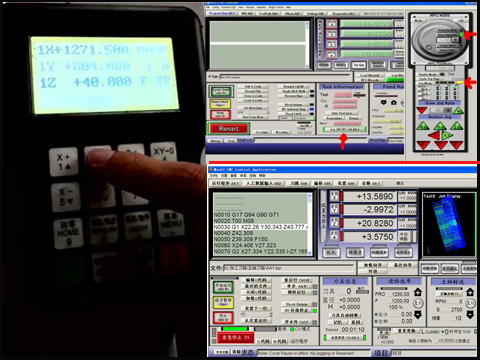 The easiest way to choose CNC wood Carving Router control System from MACH 3,NC STUDIO and DSP
It is known to us that MACH3, NCSTUDIO and DSP are the most widely used CNC controller system on cnc digital router carving machine. Those three controller system the cnc wood carving machine manufacturer provide can meet most of the demands of customers because of their powerful functions. But both of them have their merits. for example, most carving machine work with Mach 3, and it is also the good choice of most foreigner.
But what are the Differences among Those CNC Control System? How to choose them?
Let us share this information today.
First, MACH3 Software controller system of cnc wood carving router
MACH3 is an open numerical controller system, its advantages lies in
1) Easy operation and maintenance.
2) Various file format support includes DXF, BMP, JPG, and HPGL files format.
3) It support G-code created by Type3, Artcam, castmate, ProE, UG etc G-code design software.
This system has various functions like pitch error compensation, backlash compensation, Cutter Length Compensation and cutter radius and wear compensation. The axially accelerating speed can be adjusted in speed regulation interface according practical application.
Mach3 control machine operating by computer parallel port. Both the input signal and output signal are binary digit.
And if you want to find cooperation video from Google or Youtube, this control system is a good choice.
Then talk about the DSP control system
1. Engraving machine hand wheel can support G-code created by Type3, ArtCam, castmate, ProE, UG etc G-code design software.
2. Built-in 128M file storage
3. 128X64 monochrome LCD display
4. Connect port: USB and disk
The advantages of DSP controller system
1) The engraving process can without computer connecting, use hand wheel can control machine directly.
2) Hand wheel operation, humanization design
3) 128M storage can store 9 files simultaneously
This control system is good for those who want to use original control system but do not pay much more on system,compare with the other control system,DSP function is easy.
NCSTUDIO controller system
NCSTUDIO is a kind system based on Windows 98 or Windows NT (2000/XP), it generally used in high-performance CNC machine.
Features:
Its advantages lie in 32bit count and multiple tasks cooperation. Compared with other system, it becomes outstanding with the high speed precision, multiple tasks cooperation and network interconnection.
And many Chinese users uses DSP and NCSTUDIO, and most overseas customers prefer to Mach 3 controller system because of its easy operation. Now NC STUDIO is also accepted by more and more foreigner.
Hope this article will help you. If you have any questions, please contact us as soon as possible. Jinan Dekcel Cnc Euipment Co., Ltd will always be there for you.