Reci 100w cnc laser cutting machine for billboard in advertising industry
Views: 19 Author: Site Editor Publish Time: 2017-08-02 Origin: Site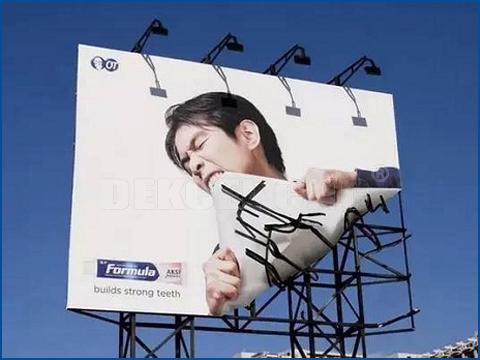 Reci 100w cnc laser cutting machine for billboard in advertising industry
The outdoor billboards can cut by Reci 100w cutting machine. As we know, the outdoor billboard can be made of nonmetal and metal materials. Such as, paper, acrylic, plastic, stainless steel and son on. Luckily, the Jinan Dekcel Cnc Equipment Company has lunched billboard laser cutting. The cnc laser for cutting billboard can help your work greatly in advertising industry.
The outdoor billboards can be seen everywhere in the city. Good outdoor billboards are designed not only to arouse the interest of customers, but also to stimulate their imagination, such as this a group of innovative billboard designs.
The vacuum cleaner can sucked the waste gas clean from chimney, so dust in daily life is nothing difficult.
Creative design or text of billboard, the people can not help but want to see more than a few eyes. Although the billboard usually has only a few words, but the process is not simple And in the billboard production process, laser processing technology has been widely used.
T type of outdoor billboards will use a large number of metal materials, non-metallic materials used in a small billboard is also very wide. The Reci 9060 laser cutter cnc can cut any plane graphics in these materials. As long as there are drawings, the economical cutting machine can be controlled by computer, and cutting out a good sample for advertising. For a variety of creative industries, the high speed laser cutting technology to improve the production of flexible and efficient laser cutting.
At the same time, the nonmetal cnc cutter machine with good cutting quality, small deformation, the flat appearance, beautiful, stable performance, without two processing. The laser cutting machine in advertising can help enterprises to save costs. In addition, good laser cnc cutter machine equipment also has advantages. Cnc cutting machine industry can process some complex graphics, making the production of various special-shaped billboards become possible. The billboard laser cutter machine effectively improve the enterprise's market share and help enterprises to improve profits.
China Jinan Dekcel Cnc Equipment Company focus on R & D and production of laser cutting machine, a series of high precision laser cutter cnc machine is introduced, and the cnc laser machine has been widely used in the advertising industry. The high speed cutting machine brings huge benefits to customer.
With the development of advertising industry scale, more and more customers choose cnc laser cutting machine for their work. If you are also interested in our cheap laser cutter, or have any question. Please contact Jinan Dekcel Cnc Equipment Company. We are support service 24 hours online.
Thanks for your time.