Operation advantages of oscillation knife cutting plotter for carton box
Views: 39 Author: Site Editor Publish Time: 2017-09-19 Origin: Site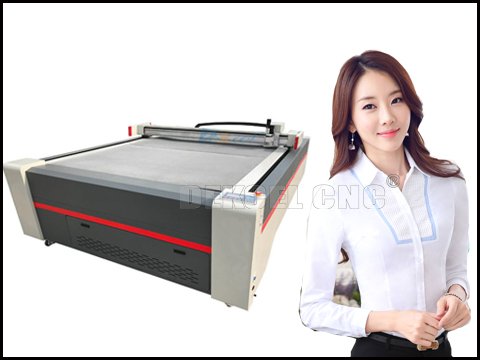 We all know that the main advantage of vibrating knife cutting machine is its fast cutting speed, cutting quality and loved by users, so using vibrating knife cutting machine to pay attention to what? The following vibration knife cutting machine small make up for you to introduce.
1. Confirm whether the procedure and compensation amount are correct before line cutting.
2. When starting to cut, it is necessary to observe and judge the processing stability of vibration cutting machine, and timely adjust if any defect is found.
3. In the process of vibration cutting machine, it is necessary to check and supervise the cutting condition frequently and deal with the problems immediately.
4. When moving the working table of vibrating cutter, the moving speed should be correctly selected according to the distance between it and the workpiece, so as to prevent the collision when moving too fast.
5, programming to determine the correct processing process and processing route according to the actual situation, to eliminate the workpiece scrap or cut off in advance due to insufficient processing position or edge strength.
Operation advantages of oscillation knife cutting plotter for carton box, Jinan Dekcel cnc company produces and sells cnc oscillation knife cutting plotter for many years, which is suitable for clothing, leather, bags, fabrics, paper products, textile fiber and all kinds of fabric cutting. The features of the wide range of processing, no flying edge, neat cutting,no deformation, random graphics output and no knife mold make the cnc oscillation knife cutting plotter more and more popular both in China and around the world.
From the perspective of the process, the cnc oscillation knife cutting plotter integrates the cutting, punching, carving and other innovative process, which adopts the imported high precision linear guide, leadshine stepper motor and driver, stainless iron honeycomb plate.
In addition, the cnc oscillation cutting plotter can automatically typeset, print and copy as well, so as to save the materials and manual printing at the same time. What's more, the production efficiency and the production cost are able to be optimized.
On the other hand, the cnc oscillation knife cutting plotter for nonmetal of Dekcel cnc company can be equipped with double heads. The control software is in the world's leading position. More importantly, the double heads improve the efficiency timely.
Hope this article will help you. If you have any questions about oscillation knife cutting plot price and qualities, please contact us as soon as possible. Jinan Dekcel Cnc Euipment Co., Ltd will always be there for you.