One Application You Should Knew About JPT Mopa Fiber Marking
Views: 9 Author: Site Editor Publish Time: 2018-02-26 Origin: Site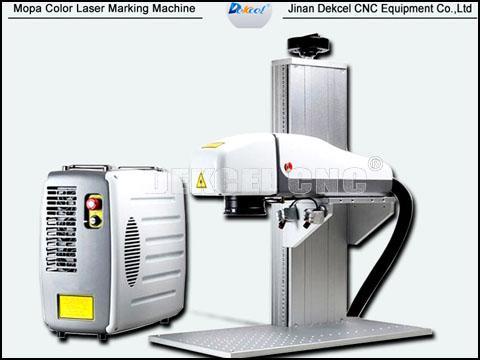 One Application You Should Knew About JPT Mopa Fiber Marking
The fiber color marking cnc machines are used in many different industries. This article, we will introduce one application of JPT mopa fiber marking machine for anodized aluminum.
Using the aluminum color fiber marking laser machine, it can mark brand, text, logo or other information with black on the surface of alumina materials. In recent years, the logo marking laser machine is used widely in Apple, Huawei, ZTE, Lenovo, Meizu and other electronic products. They are used for trademark and model marking with black color. For this kind of application, only desktop and portable mopa color laser marking machine can be processed at present. Because the mopa laser marking cnc machine has wide pulse and frequency adjustment range. Using narrow pulse width and high frequency parameters, we can mark the black effect on the surface of materials, and we can also mark different grayscale effects through different combinations of parameters.
So if you want to mopa laser for marking aluminum, or have any question about the aluminum color laser marking machine. Please contact Jinan Dekcel Cnc Equipment Company. We are support service 24 hours online.
Thanks for your time.