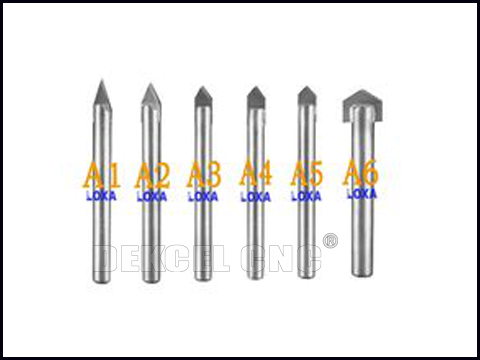 Jinan Dekcel cnc company produces stone cnc engraving router machine. In the following passage, Dekcel will offer a detailed information about the basic configurations, main features, main functins, the knife choices, technical characteristics and the proper ways to select a right cnc stone carving machine.
The basic configurations of cnc stone engraving machine:
#Working area: 1300*2500*200mm
#5.5KW water cooling spindle,
#X Y axis gear transmission, Z axis Taiwan TBI ball screw transmission,
#Taiwan Hiwin square rails,
#NC Studio control system/NK105 DSP,
# water tank
#leadshine Serve motor and drivers
#Fuling inverter,
#Filter,
#T-slot table
#Heavy duty
#Original Artcam software
It is a truth that after the appearance of cnc stone engraving machine, our life level has been improving in many perspectives. Cnc stone carving router machine greatly improve the efficiency of people's work. For example, in the past, when it comes to engraving a stone decoration, people need to take about one or above month to finish it. But now, using stone carving cnc router machine, users can finish it within a day, which reduces the laser force. The appearance of the stone marble engraving cnc machine makes the inside house decoration field more and more artistic and high-end.
The stone carving cnc router machine is able to carve calligraphy in natural stone, glass and ceramic crafts, ceramic tile, art design, which can meet the personalized requirements with decoration. Deklcel stone cnc carving machine can be used in decoration, handicraft industry, stone industry, ceramics industry. In recent years, the demand of stone cn c engraving machine is increasingly improved.
Main functions:
Stone engraving and stone relief.
Main features
1. fast speed, high precision, high stability, low noise, long service life;
2. the bed is made of T-Slot steel instruction, using full welding process and tested by vibration experiments to ensure that the machine will not shake at high speed operation, and the knife won't break with a highly smooth surface.
3. high power transverse torque spindle, large bearing, high speed, large amount of chip, and the motor is not easy to damage.
Applicable industries:
Applicable to stone industry, stone processing industry, art relief, advertising industry, decoration industry, ceramics industry.
Applicable materials
Marble, granite, jade, bluestone, black stone and other ceramic materials, as well as ceramics, glass, plexiglass, PVC board, aluminum plate, bamboo and other materials.
For granite and other hard stones can be carved to 5mm at different levels
Marble and blue stone can be carved into surface of 5mm at one time
CNC stone engraving machine tool introduction and choices
A series (ordinary knife type alloy knife): high performance alloy material, double edge design, sharp sharpness, high cost-effective performance with easy manual regrinding
Fault: this knife type of cnc stone engraving machine is not suitable for relief because of the nonstandard angle (there is a larger angle on the tool point). Generally used for carving blue stone, marble!
B series (standard angle alloy knife): with high performance alloy material, double edge design, angle standard, lettering, fine relief, good results. Generally used for carving blue stone, marble, which can be made into flat knife with flat bottom.
C series (smelting diamond grinding head knife): smelting diamond grinding head knife, adopts military technology. The utility model of stone cnc carving machine has the advantages of good sharpness, high engraving efficiency, no deformation of the cutter head, high engraving accuracy, etc. Therefore, when carving marble, blue stone, sandstone and other materials, C series knife type is normally considered as the preferred tool for high efficiency relief,as well as a great tool to engrave wood characters.
D series (integral alloy knife with three edges): the whole alloy knife with three edges of cnc stone engraver router machine ultra is made of fine alloy with supper particle and supper wear features,which is more durable than the triangular knives on the market. The standard angle lead to a good lettering effect.
E series (PCD polycrystalline diamond knife): the cnc stone carving machine imports polycrystalline diamond blade with much higher quality. The vacuum welding technology can ensure that the blade does not damage and does not fall off. The micro grinding technology enables the sharpness and strength of the blade to be optimized. Generally used for small carved granite. Good hardness, longer service life and good engraving effect. Users of stone cnc carving router should pay attention to use the knife softly in a flexible way.
F series (sintered diamond grinding head): sintered diamond grinding head is generally used for milling granite bottom. Since the cutter head is sintered by multi layer diamond, it has a very long service life. The disadvantage is that the sharpness is not very high, and the tool head will deform. Therefore, when it comes to carving marble, blue stone and other materials, in order to enable users to achieve higher output and engraving effect, Dekcel recommends not to use sintering knives. But when engraving the tough granite, the sintered diamond grinding head of cnc stone engraving machine can greatly reduce the cost of the knifes.
G series (diamond four knife edge): generally used for small carved granite or line. Long service life but the engraving depth is shallow.
Technical characteristics
For editing
Cnc stone engraving machine adopts imported square linear guide rail, double row and four row slide block with strong bearing capacity, fast speed, smooth running, high accuracy and long service life. Constant power spindle motor with big cutting power and high efficiency. Software compatibility is good, which can support Type3, Artcam, Castmate, ArtCUT and other CAD/CAM design software. The stone marble carving cnc router machine is equipped with engraving cutters, relief engraving function and bidirectional cutting tool cooling system. CNC digital control, with break point memory function, to ensure the work is able to continue to work after the unexpected break point caused by power off.
How to choose a right cnc stone carving router machine?
It is very significant to choose a proper cnc stone engraving and carving machine in the stone processing industry. How to choose a right cnc stone engraving machine? Dekcel will give you a satisfactory answer.
1. users of cnc stone engraving machine must pay attention to the engraving machine function. Cnc stone engraving machine's motor can be divided into high power and small power points. Some cnc stone processing engraving machine with small power is suitable for double color plate, building model, small signs, three-dimensional crafts materials. This process has been popular for a long time, but the small engraving power greatly affect the scope of its application.
In addition, there is another cnc stone engraver in China with large power, which has two kinds. One is cnc cutting machine with large scale of more than one meter, but with bad precision. Second, for cnc cutting machine with normal size, it is usually used for fine processing and organic sign board producing.
2. if users want to have a good knowledge of stone cnc router machine, the engraving spindle motor is very important. As we all know, the spindle power of cnc stone carving machine need to work for a long time. So if stone cnc router engraving machine users choose a motor of bad quality, it also will affect the service life of cnc stone engraving machine.
3. cnc engraving machine body manufacturing process: high-power cnc stone engraving machine work requires accurate and stable body. Therefore, if users want to engrave a stone with high power for a long time, only using casting iron body can ensure its machining accuracy and stability.
4. controllers of cnc stone engraver router machine are generally divided into two categories: on the one hand, we have one kind controller only seen as a driver and all the engraving operations are done by a computer. When the cnc engraving machine is uner working condition, the computer can not do typesetting work. On the other hand, the controller is actually a computer. As long as the cnc engraving machine starts to work, the computer can immediately carry out other typesetting work. Especially for a long time stone sculpture engraving , the advantage of computer control system is particularly evident.
5. Ball screw and guide rail is also an important part of cnc stone engraving machine. The good ball screw and guide rail are the guarantee of the accuracy and performance when stone cnc engraving machine needs to work for a long time.
In addition, it is very important to make a engraving sample of stone. When it comes to the choice of cnc stone engraving machine, users are expected to pay attention to the source of information. If users find the company online, they are supposed to read the introduction info carefully and open their website to see if it is professional or not. Then if possible, users could call the suppliers to ensure their real power. After all, the power represents the quality and service to some degree. It will be better if you have the chance to inspect the company in real site. On the other hand, if you cannot visit company, a perfect sample which greatly meet your requirement will also be a guarantee of their reputation and machine's good quality.
Hope this article will help you. If you have any questions about wood carving cnc router price and qualities, please contact us as soon as possible. Jinan Dekcel Cnc Euipment Co., Ltd will always be there for you.