The advantages of 80w auto feeding cnc co2 laser cutting machine for fabric
Views: 10 Author: Site Editor Publish Time: 2017-09-20 Origin: Site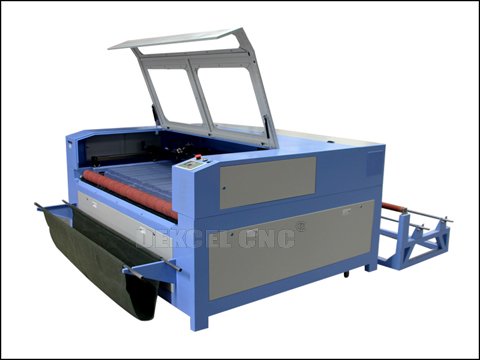 The types and advantages of 80w auto feeding cnc co2 laser cutting machine for fabric
Jinan Dekcel cnc company offers cnc co2 laser cutting machine for cloth fabric with automatic feeding system to meet different demands of customers. As we all know, Cnc Co2 Laser cutter is composed of co2 laser tube, transmission positioning device, working platform, transverse guide rail and vertical guide rail. With the development of science and technology, the co2 laser cutter brings a a lot of new atmosphere to clothing industry.
For example, DEK-100W camera positioning Cnc co2 laser cutting machine, the DEK-1390 automatic feeding cnc co2 laser cutter, double heads cnc co2 laser cutting machine with high efficiency are widely praised by the customers of the apparel industry.
Controlled by a computer, the cnc co2 laser cutting head is driven by a transmission positioning device to achieve the plane movement. At the same time, the high-energy laser beam is released rapidly and accurately to cut the fabric. No matter what it is, the edge bold cutting, or leather engraving hollow, 80W 100w co2 laser cutting machine can fundamentally solve the problem. The fast cutting speed, good cutting effect, and the low cost make lots of users choose the co2 laser cutter for fabric to develop their business successfully.
Hope this article will help you. If you have any questions about cnc co2 laser cutting machine price and qualities, please contact us as soon as possible. Jinan Dekcel Cnc Euipment Co., Ltd will always be there for you.