How to choose good quality cnc plasma cutter machine for your work?
Views: 12 Author: Site Editor Publish Time: 2017-09-15 Origin: Site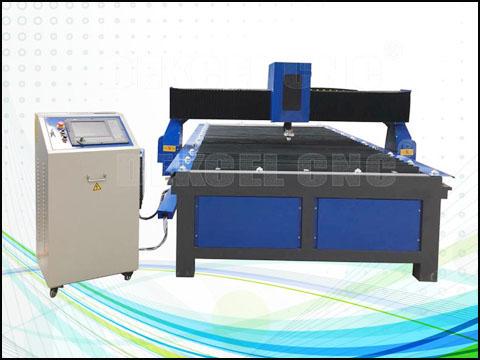 How to choose good quality cnc plasma cutter machine for your work?
As a cnc plasma cutter machine user, it is important for customer to choose a good quality plasma cutter machine. But do you know how to choose a economical plasma cutter cnc machine with high speed for your work? Don't worry, Jinan Dekcel Cnc Equipment Company, as a plasma cutter machine manufacturer, is professional in this filed.
Now we will introduce how to choose the best cnc plasma metal cutter machine.
One, the enterprises to buy and use cnc plasma cutter machine for metal will undoubtedly reach three main requirements:
(1). Cnc plasma cutting machine can cut products with different materials and thickness, producing and processing specific products.
(2). Cnc cutter machine can effectively improve cutting efficiency and cutting quality.
(3). using the cnc metal cutter plasma machine can effectively save steel and consumables.
Two, enterprises to buy hypertherm or huayuan power supply plasma cutter machine can be divided into the following steps:
(1). Selecting a suitable plasma cutter machine models
According to users to cut material and thickness, and the requirement of cutting efficiency and quality, first of all to choose and decide the plasma cutting machine types.
(2). Selecting fine cnc plasa cutter machine configurations
According to the requirements of cutting material and product, especially the cutting thickness and perforation capability, choosing the specific configurations of China plasma cutter machine.
(3). checking the quality and accuracy of cnc plasma machine
After the selection of plasma cutter machine type and configurations, then introduce the manufacturing quality and cutting accuracy of the cnc plasma cutting machine, the structure of cnc metal cutting machine, the quality of the gear rack and plasma machine installation quality, are related to or determines the cutting quality of cnc cutting machine.
(4). Checking stability of cnc plasma cutting machine system
The stability of critical cnc system is important, if the system is not stable, that maybe resulting in cnc system cannot work, then enterprises need to shut down for a week time for change or repair the system, this is a serious loss to the enterprise and plasma cnc cutting machine manufacturers.
(5). Cutting efficiency and cutting quality
The cutting efficiency and quality of cnc plasma cutter machine is the most concern of users. It is not only the key point for users to check plasma cutting machine, but also the standard for evaluating the quality of cnc plasma cutter machine.
(6). Saving steel and consumables effectively
This is the most concern of enterprises. Enterprises to profit, must effectively save steel and supplies. To effectively save steel and consumables, it is necessary to purchase and use optimized nesting and efficient programming software.
If the user does not buy the nesting software in order to save money, the numerical control cutting machine can not do the whole plate nesting and the remaining material of the particle board, and the scrap material that the user wastes a month will greatly exceed the price of the nesting software; If the good quality plasma cutter cnc machine can not achieve efficient cutting, the cost of cutting and consumables for a month will far exceed the price of nesting software. If the high speed cnc plasma cutting machine can not do full time cutting and automatic cutting, the cutting efficiency is greatly reduced, the production and operation costs will still be high, and the cost will be much higher than the price of several sets of software.
If you are interested in our cnc plasma cutter machine for your work, that choose a professional plasma cutter machine manufacturer is important for you. Choosing Jinan Dekcel Cnc Equipment company, you can don't worry about anything. What are you waiting for? Please contact us as soon as possible. We are support service 24 hours online.
Thanks for your reading.