Correctly Starting !!! SS Metal Fiber Laser Cutter Machine
Views: 37 Author: Site Editor Publish Time: 2019-06-06 Origin: Site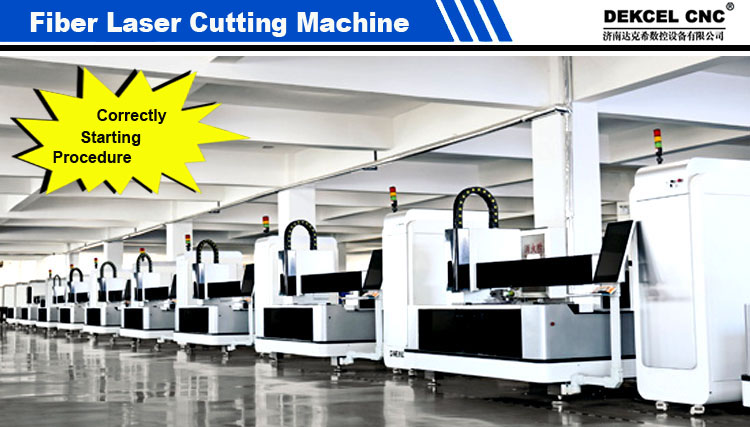 Correctly Starting !!! SS Metal Fiber Laser Cutter Machine
In the process of using the stainless steel fiber cutter machine,
Correctly switching on the stainless steel fiber cutter machine
Not only can increase the life of the fiber cutter machine,
And it also allows us to avoid a lot of unnecessary trouble
(such as damage to the body, causing a short circuit,It even caused the machine parts to burn out, etc.).
So,it is also important to switch the fiber laser cutting machine correctly.
When starting the stainless steel laser cutting machine It should be started following below procedure:
1). Turn on the mechanical main power.

2). Turn on the water chiller power supply, the air compressor and the dryer power switch.
3). Turn on the machine lath power.
4). Turn on the fiber laser source power.
5). Turn on the high voltage start switch.
6). Turn on the laser start switch of fiber laser source.
7). Turn on the electronic shutter switch.
8). Clockwise direction turning the Power Adjustment knob to the appropriate value.
9). Turn on the fiber laser cutting auxiliary gas O2, N2, air.
Overheat Problem – Fiber Laser machine when cutting metal sheet
Most of the heat generated and absorbed by the workpiece.
When the cutting density is too large,
It often causes the workpiece to overheat,leading the metal sheet bending or deformation.
There will be overburning at the corners or curves cutting too,
Seriously affect the quality of the cutting edge, like not smooth, not vertical, even can't cut.
For such problems, solution as below for your reference from DEKCEL CNC :
(1) The laser cutting head with auto sensing follower system can ensure that the height of the cutting nozzle to the surface of the workpiece remains unchanged during the cutting process (the focus is unchanged), so that the cutting effect is not affected by the change of the surface of the stainless sheet ;
(2) Increasing output pressure of auxiliary gas (6-8Mpa).
(3) Increase the cutting speed ,or increase the accelerated speed for sharp corner synthesis by software.