Advantages of cnc laser marking machine for beer and glass bottles
Views: 1 Author: Site Editor Publish Time: 2017-09-07 Origin: Site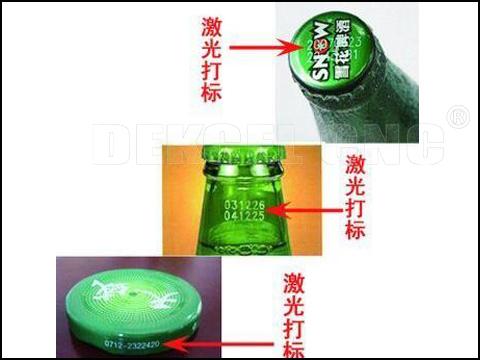 Advantages of cnc laser marking machine for beer and glass bottles
With the repaid development of laser marking technology, the co2 laser nonmetal marking machine is applied in the bottle wine industry more and more widely. And the excellent performance advantages of 20w laser marking machine for glass are gradually replacing the traditional way of processing.
Before in the beer industry, due to high processing speed, and the environment are more humid, so the processing requirements for the beer glass bottle are high, whether the traditional means of laser marking that are extremely need to harsh conditions.
Now, the cnc laser marking machine can be used high energy laser beam focusing on beer glass bottle surface, and then physical vaporization. Thus leaving the smooth texture of the marking pattern on the surface. And using the 30w economical co2 laser glass marking machine, we can also effectively control the displacement of the laser beam, marking beautiful pattern on the surface of beer bottle. Compared to traditional logos, laser marking is now expensive than traditional equipment, but laser marking can leave clear, textured permanent markings on the surface of bottles. At the same time, it can not be rubbed and altered, which is very good for anti-counterfeit labels. For the bottle wine industry, which is now fiercely competitive, this is certainly an advantageous way of processing.
Now with the laser marking technology improved, the service life of the laser and the performance has been greatly improved. I believe in the near future, the laser marking in the beer industry will become more widely used.
If you are interested in our cnc laser glass marking machine, or have any question about the laser marking cnc machine. Please contact Jinan Dekcel Cnc Equipment Company. We are support service 24 hours online.
Thanks for your time.