How to maintain and protect high-power spindle of cnc stone router machine for sale
Views: 9 Author: Site Editor Publish Time: 2017-07-25 Origin: Site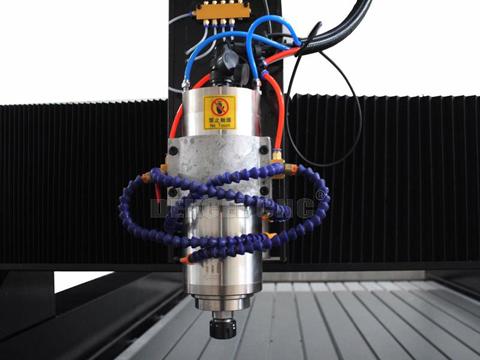 In the summer,if you are a cnc stone router user, you must be concerned about how to protect and maintaincnc stone carver machine spindle. In this article,it illustrates a few points for maintain cnc stone router spindle in summer. Hope this is helpful for you.
First,if it has some smoke,smell,noise and other unusual phenomena during the processing of industrial cnc stone router machine,please stop using the cnc stone engraving machine immediately.
Second,don't destroy or randomly replace the cnc marble engraving machine's original accessories and cable.The original accessories and cable is perfectly suitable for the cnc carving stone machine's operation,you can ask for the cooperated cnc stone router manufacturer for a new but exactly same one if the original ones are damaged.
Third,if something like liquid or metal objects accidentally fall into the cnc stone router for marble.You are suggested to promptly clean it up,and pay attention to regular lubrication for the cnc stone carving machine's guide rails and gear and racks.
Fourth,please operate cnc stone router for granite in strict accordance with the company's training requirements,processing size shall not exceed the scope of the provisions for cnc stone router carving machine.
Five,According to different engraving machine materials,different carving depth,please select the appropriate tools for the cheap cnc stone router machine,and set the appropriate carving speed for the cnc stone engraving router machine.
Six,make sure the water pipe is fixed and reliable,water is clean and water flowing is smooth during the working process of cnc stone carver machine's high-power water-cooling spindle,the motor should be replaced for the leakage or water pipe aging.
Seven,it is prohibited for industrial cnc stone engraver machine using the power supply which does not meet the rated voltage.
Eight,it is forbidden to start cnc stone router machine's installation and commissioning.
in the cloudy,or rainy day or under thunderstorms.
Nine, It is not allowed to put the cnc stone engraver machine used in the open air environment.
Okay,that's all i have to share about industrial cnc stone engraving machine with you today. If you still have any questions about cnc stone engraver machine, you can find us contact on the home page. If you want to buy a best cnc stone router, also can inquiry us.