cnc stone engraving machine 5.5kw water-cooling spindle routine maintenance
Views: 16 Author: Site Editor Publish Time: 2017-06-26 Origin: Site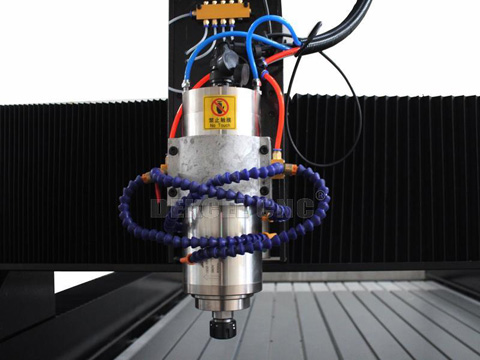 cnc stone engraving machine 5.5kw water-cooling spindle routine maintenance
The occurence of the cnc stone engraving machine,have greatly improved our lives in many ways.For instance,cnc stone engraving machine is able to realize the mechanization and automation of production,which not only greatly improve the efficiency,but also greatly reduces the cost of labor,thus greatly improves the utilization rate of human resources.Furthermore,cnc stone engraving machine has a wide application.It is applied to stone industry,stone processing industry,art relief,advertising industry,decoration industry and ceramics industry and so on.
Generally speaking,it may occur three types of failure as to cnc stone engraving machine spindle,the motor giving out heat,small power,abnormal sound and motor reversal.
First,when the motor is giving out constantly,please check whether the water pump is normal,whether the circulating water is below the surface or not.
Second,if the motor power is small,check whether the motor line is missing,the cable is in short circuit.
Third,the 5.5kw water-cooling spindle motor is making some abnormal sounds: you need to make sure whether the motor is overload or maybe something is wrong with internal motors,get repairment or replacement.
Thanks for your time.